Whether you've been invited for an assessment or interview, or have your offer already, visiting us is the best way to ensure you're making the right choice.
Our top priority is always the health and safety of students, staff and those who make up our wider community across the globe. We are closely following the latest advice and guidance issued by the UK Government, Public Health England (PHE) and the Foreign and Commonwealth Office. We will continue to take all appropriate and necessary steps, as required by the official advice, to keep our community safe.
Therefore we have taken the decision to cancel the Applicant day on Saturday 18 April.
All offer holders currently booked to attend will be contacted by email. 
What is an applicant day?
An applicant day is the best way to get a feel for Sheffield. 
Applicant days are for current applicants to the University of Sheffield. Book your place by following the link in your invitation email or by logging in to your MUSE account. 
If you haven't applied yet, there are still ways for you to visit. Join us at one of our main University open days or come along for a campus tour.
Stay overnight at our award-winning student residences
You and your guests could stay overnight in our award-winning student residences for £5 per person. It's a fantastic opportunity to get an insight into the student experience at Sheffield. We'll contact you by email after you've booked your place on an applicant day to let you know how to arrange your stay.
What happens on an applicant day?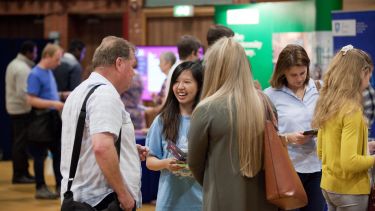 Many of our applicant days take place at the weekend. This means you can make the most of your visit, spend time in your department, explore the campus and get to know the city.
You'll be able to find out more about your course, take part in short lectures and presentations, and explore our world-class facilities.
You can also take a tour of our award-winning student accommodation and visit the central exhibition, where expert staff will be on hand to answer your questions.
The central exhibition
Discover why Sheffield offers one of the best student experiences in the UK at the central exhibition. You'll be welcomed by our Vice-President for Education Wyn Morgan.
Expert staff from the following areas will be here to answer all your questions and talk to you about what makes Sheffield such a unique city: 
Your support systems
Sheffield has some of the best student services in the UK. We'll give you advice on student loans, grants, University bursaries and scholarships. Plus all the services we offer to make sure you're well looked after. 
Your future
Why are Sheffield graduates so good at competing for jobs? Find out from our Careers Service staff what makes a Sheffield graduate special, and how they can support you right from the start of your degree. 
Your personal development 
Find out how you could spend part of your course studying abroad, learning another language or developing your own business ideas. 
Your community
Sheffield is a unique place to live. Many of our students love it so much, they choose to stay here after they've graduated. To find out more, you can ask the people who look after our student accommodation, or talk to someone from the Students' Union about the incredible social life.
Before I came to the open day, I didn't realise how amazing the University of Sheffield was. But when touring the department, I was completely blown away by the facilities and how nice the staff were. The open day made me reconsider and change Sheffield to my first university choice.
Dan Homer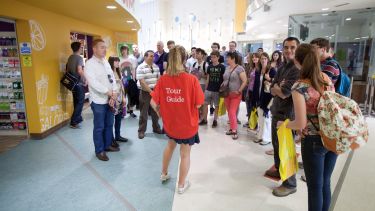 Tours
This is our chance to show you how a world-class university invests in its students. Tours run regularly throughout the day from 10:30am. 
Accommodation tours
Accommodation tours will run all day and will last about one hour. You can also get further information about our award-winning accommodation from the stand in the exhibition. 
Self-guided campus and city tours 
Get to know the campus or the city in your own time. You can pick up up a self-guided tour leaflet at the central exhibition or one of our Information Hubs, located at key points across the campus. Tours take between 45 minutes to an hour. 
Library tours 
These are available at the Information Commons, The Diamond and Western Bank Library. Tours take around ten minutes. There is no need to book, just turn up. 
Sport Sheffield tours 
Tours of Sport Sheffield are available from the Goodwin Sports Centre and last approximately 20 minutes. There is no need to book, just turn up.
Parking and travel advice
Travelling to Sheffield is easy, but parking close to the campus is limited. Please plan your travel in advance. ​For return travel purposes, you should expect to be with us until approximately 4pm.​
Help with travelling costs
You may be eligible to receive an Access Travel Bursary to help with the cost of travelling to the open day. 
I got a feel for how passionate current students were about the course and it also came through in the academics. Also the layout of the day allowed me to see everything about the course that I needed to.
Sophie Wilson