Once you've applied, we'll invite you to an applicant day. You'll get to see more of your chosen department, meet staff and students and learn more about your course. You'll be given the option to visit us online or in person, or both.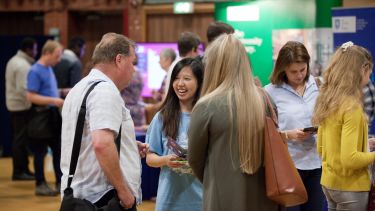 Applicant days are for current applicants to the University of Sheffield.
To book your place: follow the link in your invitation email. 
---
Whether it's your first trip to Sheffield or not, the on-campus applicant day provides a great opportunity to spend time with your department, gain a greater insight into your course, and take a closer look at the fantastic facilities and support services that form part of your wider Sheffield experience.
Quality time with your department
Much more than just a one-hour course talk, many departments will offer taster lectures or seminars, extended Q&A sessions or panels with current students. Some departments may offer lab tours or demonstrations. There will be opportunities for 1:1 conversations with departmental staff and current students.
The central exhibition
Discover why Sheffield offers one of the best student experiences in the UK at the central exhibition. Find out everything you need to know about Sheffield including study abroad opportunities, student finances, sport and societies, disability support and more. Pick up guides, talk to the experts and explore the ways we can support your time at Sheffield.
Tours
The best way to find out about our world-class facilities is to see them for yourself. Take student-led tours of our campus and facilities - from our top-voted Students' Union to our world-class libraries and outstanding sports facilities. Free bus tours of our award-winning accommodation also run throughout the day, and we'll provide you with top tips for exploring the city centre too - just a short walk from campus.
For a more detailed schedule, please see the applicant day guide. For answers to frequently asked questions about the applicant day, visit the applicant day FAQs. 
---
The online applicant day gives you a chance to meet your department virtually. Each department will present a live online talk about the course and department. You may be able to take part in interactive activities like short lectures or seminars, and join Q&A sessions with current students. You'll also be able to explore online content about your course.
You'll have the opportunity to take part in an online chat with a current student from the course you're interested in. Our students are able to provide you with insight into your course and share what student life at Sheffield is really like. You can also chat online with experts in all areas beyond your subject, like finance, sports, careers, disability and dyslexia support and many more. 
Online visitors can access video tours of our award-winning student accommodation, and explore 360 virtual tours of our vibrant campus and world-leading facilities
Explore the University
Discover what sets Sheffield apart at our next on-campus open day.