Once you've applied, we'll invite you to an applicant day. You will get to see more of your chosen department, meet staff and students and learn more about your course.
What is an applicant day?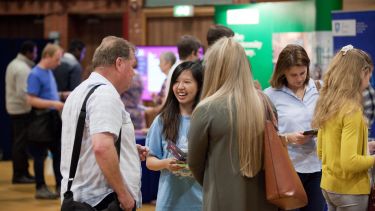 Applicant days are for current applicants to the University of Sheffield. Book your place by following the link in your invitation email or by logging in to your MUSE account. 
What happens on an applicant day?
We have live talks taking place with each department, where you'll be able to find out more about your course, take part in short lectures and presentations, and explore our online content about your course.
You'll have the opportunity to talk directly to a current student from the course you're interested in via our Chat to US service. Our students are able to provide you with a real insight into the course you are interested in, and also what life at Sheffield is really like.
You can speak to experts in all areas beyond your subject, for example, finance, sports, careers, disability and dyslexia support and many more. 
You can also take a video tour of our award-winning student accommodation and visit the central exhibition, where expert staff will be on hand to answer your questions.
The central exhibition
Discover why Sheffield offers one of the best student experiences in the UK at the central exhibition.
Expert staff from the following areas will be here to answer all your questions and talk to you about what makes Sheffield such a unique city: 
Your support systems
Sheffield has some of the best student services in the UK. We'll give you advice on student loans, grants, University bursaries and scholarships. Plus all the services we offer to make sure you're well looked after.
Your future
Why are Sheffield graduates so good at competing for jobs? Find out from our Careers Service staff what makes a Sheffield graduate special, and how they can support you right from the start of your degree.
Your personal development 
Find out how you could spend part of your course studying abroad, learning another language or developing your own business ideas.
Your community
Sheffield is a unique place to live. Many of our students love it so much, they choose to stay here after they've graduated. To find out more, you can ask the people who look after our student accommodation, or talk to someone from the Students' Union about the incredible social life.