We're offering prospective students the opportunity to visit Sheffield and undertake guided tours of our campus and accommodation.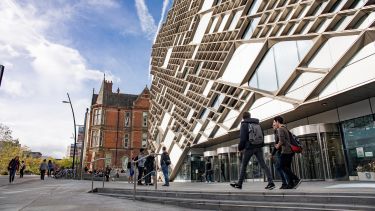 The health and safety of students, staff and visitors remains our top priority, and so we'll continue to ensure our plans closely follow the latest coronavirus (Covid-19) advice and guidance issued by the UK Government, Public Health England and the Foreign and Commonwealth Office.
Please see below some answers to our most frequently asked questions. If you have any further questions or queries, get in touch with our campus visit team:
+44 114 222 9872 (weekdays 9am-4pm, Saturdays 10am-4pm)
---
How long will the visit take?

The visit should take around 2.5 hours in total, and will consist of:

60-90 minute tour of our campus

30 minute break/travel to our Randmoor/Endcliffe accommodation site

30 minute accommodation tour

What time should I arrive for the campus visit and where do I need to go?

You should aim to arrive outside the Diamond building's main entrance on Leavygreave Road (as pictured above) 5-10 minutes before your visit start time. 
 

You can find details and directions to the Diamond using our interactive campus map. Look out for one of our student ambassador tour guides who will be standing outside the main entrance wearing a high-vis vest.

Who can I bring with me?

You can bring a maximum of one guest from the same household to accompany you on your visit. Due to covid-19 restrictions, we're unable to accommodate any additional guests (including children of any age).

Who will lead the campus tour?

A member of our team of student ambassadors will lead your tour.

Feel free to ask your tour guide any questions you may have about student life at Sheffield and they'll do their best to answer, or point you in the direction of further helpful information.

A member of the UK Student Recruitment Team will be based nearby and will be available if required.
 

What will we see on the campus tour?

We'll take you inside some of our iconic buildings including our award winning Students' Union, our outstanding library facilities, and some of our larger academic buildings which host lectures, seminars and labs. 

Will I get to see my academic department?

Our tour will focus on showcasing some of our multi-use buildings which host lectures, seminars and labs for students from a wide range of departments. Access to specific departments is limited due to current Covid-19 restrictions, and so priority is being given to current students using these facilities to undertake their studies.

What will we see on the accommodation tour?

We will be showing you our Ranmoor/Endcliffe student accommodation, which is located in a leafy part of the city only a short walk from the campus. You will get to look inside one of our en-suite rooms and one of our shared kitchen and living areas, get your questions answered by our friendly accommodation team, and also have the opportunity to explore some of the beautiful green outdoor spaces that our residents use for studying or relaxing in their free time

Can I see the sports facilities?

We're unable to offer visits to any of our sports facilities at present, but you can watch a video tour of Sport Sheffield, and find more information on the website.

Who should I contact if I think I'm going to arrive late?

If you're running late, please contact the UK Student Recruitment Team on 0114 222 9872. We're unable to guarantee latecomers a campus tour but the earlier you let us know, the sooner we can try to make alternative arrangements.

Who else will be on the visit?

You may be joined by one other prospective student (and their guest) on your visit. We'll ask everyone to observe the two-metre distancing rule at all times.

What covid-testing protocols are in place?

We will not ask for proof of vaccination or a negative test to attend the campus visit, as appropriate social distancing and other covid-protocols will be in place throughout. University of Sheffield students and staff, including those involved with the delivery of campus visits, have voluntary access to our on-campus Covid-19 Testing Centre and are expected to book regular tests.

What if I start to experience covid symptoms?

If you experience any of the following symptoms:

a high temperature

a new, continuous cough

a loss or change to your sense of smell or taste

you should email opendaysupport@sheffield.ac.uk as soon as possible to cancel your campus visit. If this occurs on the day of the visit, please also contact the campus visit team at the earliest opportunity on 0114 222 9872. If you begin to experience any of the above symptoms during your visit, please notify your guide immediately so we can ensure you are able to leave campus and return home swiftly and safely.

Can I access toilet facilities safely?

Toilet facilities will be available at the start and end of the campus tour and also at our accommodation site. Face coverings that cover the mouth and nose must be worn inside our buildings, and social distancing of 2m must continue to be maintained.

Hand sanitizer stations are available as you enter the building and at various locations inside. A one-way system is in place with clear signage to aid with social distancing, and the toilet facilities, high-traffic areas, and touchpoints are subject to regular cleaning.

Will refreshments be available?

We'll be offering a free bottle of water to all visitors on arrival as our drinking fountains are currently out of service due to covid precautions. Some of our food and drink outlets on campus are operating limited opening hours (until 2.30/3pm) for takeaway service, in-line with government guidance. Your campus tour guide will be able to provide further information if you wish to access these facilities during your visit.

How do I get to Sheffield?

Maps and travel information can be found here. If you're travelling by public transport, the Diamond is a 2-minute walk from the University's stop on the Supertram which serves the city centre, Sheffield train station, and several park and ride sites.

Where can I park?

We recommend that visitors use the Q Park at Durham Road. From here, it is a short walk down Glossop Road, across Upper Hannover Street, and down Leavygreave Road to reach the Diamond building.

It is also well located for your transfer to/from our accommodation site after your campus tour. Details of other parking options are available here.

Where is the accommodation? How do I get there from campus?

We'll be showing you our Ranmoor/Endcliffe student accommodation, which is located in a leafy part of the city only a short walk from the campus.

If you would prefer not to walk, we can discuss alternatives with you when you arrive at the Diamond.

What should I wear?

The campus tour is a walking tour so please wear comfortable footwear and bring suitable clothing including waterproofs in case of rain, as much of the tour will be outside.

Please also bring a face covering that covers your mouth and nose, as you will be asked to wear this when entering any buildings, unless you have a valid exemption.

I am a blue badge holder and will be travelling to the University by car. Where can I park?

If you or a member of your party is a blue badge holder, please contact us at least 48 hours before your visit and we will try to arrange a parking space for you. You can contact the campus visit team by telephone 0114 222 9872 or email opendaysupport@sheffield.ac.uk

Is the visit accessible for wheelchair-users?

The campus tour covers our central campus - an area approximately one mile across. The route makes use of lowered curbs and pedestrian crossings as much as possible. Welfare facilities in the Diamond are on the Ground Floor and include an accessible toilets. The en-suite flat shown at accommodation is located on the ground floor, and is accessible via a wheelchair. If you wish to discuss any additional requirements, you can contact the campus visit team by telephone 0114 222 9872 or email opendaysupport@sheffield.ac.uk

What is the university doing to control covid-19 on campus?

The University tracks daily reported covid cases for its staff and students and publishes these on our website. When we receive notification of a suspected or confirmed case of Covid-19, we follow detailed processes and procedures, including tracking and tracing to reduce onward transmission, communications to relevant staff and students, and cleaning of affected areas where appropriate.

You can read more information on our webpages about how we are keeping our community safe.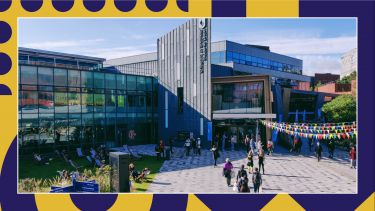 Advance Register for Clearing
We have places on our undergraduate courses this autumn. If you've already got your results you can apply now, or if you're still waiting for results get your name on the list by advance registering.