Environment, infrastructure and sustainability
Suggested PhD projects to undertake within this research area.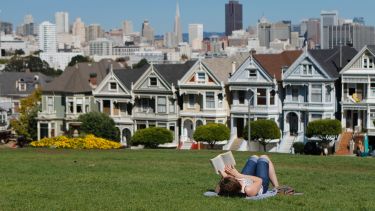 Supervisor: Lee Crookes
Sheffield prides itself on being one of the greenest cities in the UK and it has recently laid claim to being the UK's premier outdoor city. These claims make Sheffield potentially attractive to businesses and investors who are seeking to find affordable, lively and healthy environments for highly-qualified, high-skilled employees.
At the same time, however, "boosterist" representations of Sheffield as a highly liveable, green city are challenged by Sheffield's failure to meet current EU air quality standards.
Adopting a qualitative approach and building on Stephen Graham's (2015) work on the political ecology of air, this PhD would seek to examine the "value" of improving air quality from a range of perspectives, examining questions around the balance between public health concerns and new investment in the city, with some reference to the potential implications of Brexit on local environmental regulation.
---
Supervisor: Liz Sharp
This project examines the processes through which blue-green infrastructure (BGI) is planned, designed and implemented. It could be focussed on a variety of different cities/countries.
BGI offers clear societal benefits associated with flood and drought mitigation, water quality improvement as well as local access to green space and associated health benefits. But consideration of BGI benefits is relatively new, and implementation requires buy-in and action beyond the water managers and landscape specialists who advocate its use. BGI therefore faces a significant planning problem.
BGI research to date has focused on identifying and quantifying benefits with relatively little attention to the process of projects' development and governance. By exploring cases where BGI is being implemented, this research seeks to open up discussion of who is able to influence BGI, when, and in what ways, and hence to examine opportunities for how BGI can be better supported in the future.
---
Supervisor: Liz Sharp
The disposal of Fats oils and grease (FOG) via the kitchen sink is seen as a problem by the UK water industry. FOG combines with other food waste and hygiene products to form 'fatbergs' that block sewers, resulting in sewer flooding and requiring removal via expensive and environmentally demanding high pressure hosing. See 'Reshaping the domestic nexus' for more information.
Increasingly waste products are recognised as potential resources that can be harvested to deliver both environmental and economic benefits as part of the circular economy.
A pilot scheme in Bradford arranges for residents to separate FOG, harvesting the collected material to yield bio-energy. FOG also forms a component of food waste collection in some parts of the country. More broadly, water companies frequently harvest the residues of fatbergs.
This PhD project aims to examine the different costs and benefits to different parties of various means of FOG disposal. The project is likely to draw on both social practice theory and life cycle assessment.
---
Supervisor: Liz Sharp
The disposal of wet wipes and hygiene products via the toilet is seen as a significant cause of problems for UK water companies as they contribute to fatbergs and sewer flooding. While water companies have long advocated that such products are disposed of via the bathroom bin, public practices have been slow to shift.
This project seeks to examine strategies through which the sewer problems caused by bathroom practices might be addressed.
Previous work has explored kitchen change points and their potential to influence the disposal of fats oils and grease, another significant component of fatbergs (https://nexusathome.wordpress.com). This research will seek to explore the applicability of the 'change points' approach in the bathroom.
Potential change points may concern the nature of products, the ways in which they are disposed of, or the ways they are treated once disposal in a sewer has occurred.
See 'Reshaping the domestic nexus' for more information.
Find a PhD
Search for PhD opportunities at Sheffield and be part of our world-leading research.