Our diverse academic community provides us with forward-thinking students and teachers whose influential research is recognised and respected globally. We have a strong and distinct portfolio of programmes and bring new digital ways of working to help our students to develop the skills they need.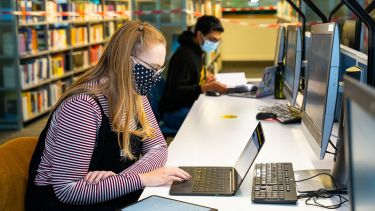 The University has reaffirmed its position as one of the world's leading universities for teaching and research. The Times Higher Education (THE) World University Rankings 2021 places us 14th in the UK and 121st in the world. The University is ranked 1st in the UK for bioengineering, medical and biomedical engineering and landscape design, with 17 subjects within the top 10 nationally.
We were rated second in Yorkshire and Humber, 17th in the UK and 95th in the world in the QS World University Rankings 2022.
The Guardian University Guide 2021 ranks us 31st in the UK, up 14 places from last year. The Guardian guide also ranks Sheffield among the top 10 UK universities for architecture, engineering, dentistry, journalism and urban studies.
The Students' Union also scored highly, with a satisfaction rate 16 per cent above the sector average for effectively representing students' academic interests.
---
Despite the challenge of the Covid-19 pandemic, the overall satisfaction of Sheffield students was at 80 per cent - four per cent above the national sector-wide average and 5th in the Russell Group, according to the 2020–21 National Student Survey (NSS).
The use of surveys is one of the key ways we can engage the student voice and so understand the impact of the design and delivery of our courses. We have developed Tell US, a central platform for gathering feedback about the student experience. This pan-institutional approach has led to better, more consistent data around the student experience and allows us to compare and draw best practice examples across disciplines and programmes.
---
Elevate continues to provide a comprehensive range of support for learning and teaching across the institution, offering retreats, facilitating curriculum development, designing and running workshops and events for sharing best practice, and online resources. Elevate incorporates existing activities such as staff development for digital learning and Higher Education Academy accreditation. The excellent work of colleagues in learning and teaching has been widely recognised, with 259 members of staff gaining fellowship of the Higher Education Academy during the 2020–21 reporting period.
---
Inclusivity remained a key educational priority in the 2020–21 academic year and we are continuing to work with students and staff on "decolonising the curriculum", through engaging in crucial conversations to understand what decolonisation means for education across all disciplines. We are developing materials to inform teaching staff and have adopted a University-wide definition of decolonisation. This is a vital piece of work that has been led by students nationally to embed an inclusive culture at universities.
How we're improving our race equality and culture for all staff and students
---
Digital education is identified as a key development priority in our strategic plan and, when the pandemic struck, online learning became the primary way we operated during the academic year. While we have returned to in-person teaching in this new academic year, we have reflected widely and deeply to ensure we carry forward the best practice and creative approaches that have been developed and implemented by our staff and students.
Digital learning tools have provided an essential backbone to our online pedagogy: as one example, our Kaltura video hosting platform was used by staff to enhance or replace conventional lectures and, in semester one alone, colleagues added over 28,000 videos, which is more than in all of 2018 and 2019 combined – and students watched 17.3 million minutes of content, which equates to more than 15 and a half years.
It became clear very early in the pandemic that the realities of digital poverty were being amplified by the lockdown restrictions and so students who were at risk of digital exclusion were supported financially. In our education strategy we have set ourselves the challenge to examine how our courses, our campus and our online offering can be designed to inherently help our students overcome digital poverty.
---
We continue to support students on their career pathways and ensure they get the skills required to thrive.
The University's Graduate Attributes framework has been updated to reflect the range of attributes that are sought by graduate employers, and that students might acquire and develop to enhance their employability. The new mySkills portfolio tool was launched early in the year, providing students with an innovative way to assess, record, build and reflect on their skills profile and personal development.
An annual Career Confidence Survey is now part of students' online registration, which is providing longitudinal data on levels of career confidence and work experience, and allows targeted activity and support to be provided where required.
In response to the impact of the pandemic on the graduate labour market, we delivered a high-quality and engaging range of activities, events and resources for our Graduands as part of an extended Class of 2021 Summer Programme. This included a successful on-campus internship scheme with more than 70 paid work experience opportunities.
We continue to strengthen our employability offer to be sector-leading. We will be launching a new alumni:student mentoring platform, further enhancing understanding and use of the Graduate Attributes framework and the mySkills portfolio tool within academic programmes, and expanding options for student participation in placements and other work experiences.