Our diverse academic community has provided us with forward-thinking teachers and influential research for which we are recognised and respected globally.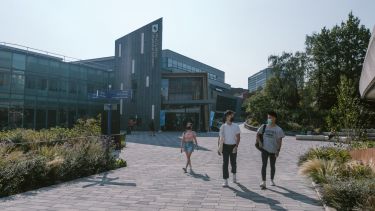 The Times Higher Education (THE) World University Rankings 2020 places us 14th in the UK and 117th in the world. The QS World University Rankings 2021 places us 16th in the UK and 93rd in the world.
The Guardian University Guide 2021 ranks us 31st in the UK, up 14 places from last year. The Guardian guide also ranks Sheffield among the top 10 UK universities for architecture, engineering, dentistry, journalism and urban studies.
The National Student Survey (NSS) went ahead as planned in 2020, despite the coronavirus pandemic. Overall satisfaction was 85 per cent, two per cent higher than the national (and Russell Group) average. Sheffield was ranked ranked number one in the Russell Group for student satisfaction in 12 subjects, including East Asian studies, computer science, dentistry, journalism and materials technology.
---
Our award-winning Students' Union performed well in the NSS, being rated number one in the Russell Group and third in the UK for effective representation of its members' academic interests. Satisfaction in this area was 18 per cent higher than the sector average.
September 2019 saw the relaunch of Elevate, our one-stop shop for staff looking for practical help with learning and teaching enhancement. Elevate incorporates existing activities such as staff development for digital learning, the Sheffield teaching assistant workshop programme and Higher Education Academy accreditation to offer a comprehensive range of support, which also includes online resources covering essential elements of teaching.
---
A new programme, launched in September 2019, is encouraging students from communities with low participation in higher education to study medicine at Sheffield. The programme, which also makes provision for care leavers and students living with disabilities, attracted 100 applications. Fifteen students were awarded scholarships to help with their fees.
Widening access to the Department of Music also received a boost this year in the form of five new music scholarships per year, thanks to a generous bequest from one of our alumni. The Mary Lill scholarships are aimed at students from low-participation areas. At least one of the two postgraduate awards will go to a UK Black, Asian and Minority Ethnic (BAME) candidate.
In partnership with the Elephant Group, which encourages state school pupils to apply to Russell Group universities, we helped deliver a virtual summer school for over 170 pupils, many of them from under-represented groups. Feedback was overwhelmingly positive, with 66 per cent asking for further information about applying. Twenty-five per cent said they would or were very likely to apply in 2021. These programmes, and others like them, are helping people from all backgrounds achieve their full potential. They also help to encourage vital diversity of talent across all sectors, including the arts and medicine.
---
A major new study by researchers from our Health Sciences School highlights the challenges care leavers face when they come to university. In line with its findings, we're improving our offer to care leavers and encouraging other universities to do the same.
Funded by the Leverhulme Trust and the Economic and Social Research Council (ESRC), the research engaged with 234 students, at universities across the UK, through in-depth interviews and surveys. The results give us insight into every stage of a care leaver's journey, from making the transition to university, to studying, graduation and beyond. While the students highlighted several areas where universities were doing well, they also raised a variety of issues, including the prevalence of drugs and alcohol in student culture, which brought back difficult memories for some. Fifty-one per cent of all participants said they had seriously considered dropping out of university at some point.
Researchers Dr Katie Ellis and Claire Johnston have teamed up with the Care Leaver Covenant, an initiative that helps organisations of all kinds to support care leavers, to turn their findings into a series of policy recommendations for universities. The University of Sheffield is leading the way. Our improved offer is focused on access and embedded support such as contextual admissions processes that take a student's life experience into account, affordable year-long accommodation contracts and training for all student-facing staff. Final-year support includes enhanced careers advice, counselling and help finding post-uni accommodation.
Our research highlighting the barriers care leavers face in accessing university
Our support for care leavers and estranged students
---
We're changing the way we think about work placements for arts and humanities and social sciences students. Working with partners across a range of sectors, including arts organisations and the creative industries, we've developed a new kind of placement that delivers high quality work experience and real societal benefits.
We've been awarded £530,000 by Research England and the Office for Students to create 140 new placements focused on the planning, design and general reinvention of public spaces. The placements will also aim to engage students from widening participation backgrounds to enhance equality, diversity and inclusion in industry and give everyone a say in the future of our cities.
This groundbreaking initiative enables students to work on knowledge exchange projects, to apply what they've learned in follow-up projects with businesses and help the University develop entrepreneurial opportunities.
More on how Sheffield students benefit from new work placement opportunities
---
The Global Engineering Challenge week helps our young engineers develop vital transferable skills in problem solving, teamwork, design, communication and global awareness.
Every first-year student in the faculty takes part in the challenge, working in teams to tackle real world problems from a global perspective. It's an experience that sets the tone for the rest of their studies and puts them on a path to becoming ethical, responsible professionals.
Our approach produces engineering graduates who are ready for anything. They have a clear vision of how their decisions will help protect and shape the environment and improve lives. And they're capable of working anywhere in the world.
---
Here at home, physics undergraduates Connor Sheppard, Matthew Rowland and Jordan Foster have been using physics and programming skills to help the local government tackle the problem of low-skilled unemployment.
For their third-year industrial project, the group worked directly with Sheffield City Region to build a computer model that identifies potential locations in which to create new low-skilled jobs.
The project was one of many that take place every year, inspiring each generation of students to apply their skills in sectors they might not otherwise have considered, and balancing our support for students' development with our commitment to the region.
Flagship institutes
Our four flagship institutes bring together our key strengths to tackle global issues, turning interdisciplinary and translational research into real-world solutions.