Special visit for students at the AMRC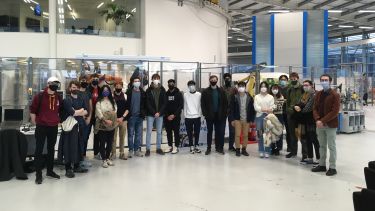 The AMRC is a network of world-leading research and innovation centres working with advanced manufacturing companies around the globe. They transform industrial and economic performance by making step changes in productivity, increasing competitiveness, developing new products and processes and training new talent and skills.  Their 120-plus industrial members range from global giants like Boeing, Rolls-Royce, McLaren Automotive, BAE Systems and Airbus to small companies.
The recent visit presented students with an invaluable opportunity to experience the integration of robotics into future manufacturing systems in a wide range of industries, ranging from construction to the aerospace industry.  In order for students to gain an understanding of how their projects' technology is transformed into real-world industrial systems, the department organised this special, onsite visit. 
As part of the visit, the students learned about the limitations of working with high-power systems and the complexity of scaling problems up from small to large robots. In addition, students were shown how emerging technologies like augmented reality and how collaborative robotics may be used to remove traditional safety barriers.
Jai Prakash Singh Maan, a 3rd Year Mechatronic and Robotics Engineering said: 
"I really enjoyed the visit because we get to observe real world projects and see first hand how relevant what we learn really is. We got to ask questions that provided us with industrial insight, but also since our guides are University of Sheffield graduates, we also got the chance to ask about their journey. Having a look at large industrial scale robots is surprisingly fun and has me looking forward to what the future holds!" 
Undergraduate scholarships
Our department offers financial assistance in the form of scholarships and bursaries, in addition to the scholarships offered by the University of Sheffield.
A world top-100 university
We're a world top-100 university renowned for the excellence, impact and distinctiveness of our research-led learning and teaching.