HANDS ON Workshop in Continuous Powder Processing
A two-day workshop comprising of hands-on experience on a continuous powder processing line (ConsiGma25 and Modul P tablet press), with lectures presenting the current challenges and latest developments in the field of granulation, drying and tabletting processes.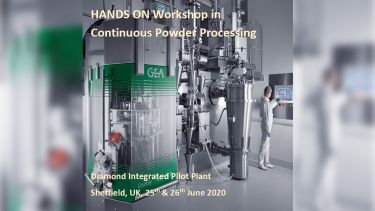 Off
The workshop is designed for those who have an interest in gaining practical knowledge in continuous powder processing and those working in the field of granulation and tabletting, as well as PhD students.
This hands-on workshop will be held in the cutting edge Diamond building at the University of Sheffield, using the Diamond Pilot Plant (DiPP) facility, and will be mostly focused on the practical aspects of continuous processing.
The programme will begin with registration at 08:30 a.m. on Thursday 25th June 2020 in the Diamond building.
We look forward to welcoming you to Sheffield in 2020!
International Granulation Workshops
The Granulation Conference showcases the latest in agglomeration, granulation and particle technology.
We welcome your abstracts for oral or poster presentations, or any enquiries that you may have.