Enriching the teaching of Black British literature through art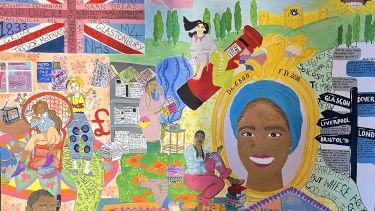 Off
Written by Dr Veronica Barnsley, Lecturer in Twentieth and Twenty-first Century Literature, School of English
As a student in London in 1997 I went to see the Sensation exhibition at the Royal Academy. The show featured pieces from the Charles Saatchi collection by YBAs (young British artists), Damian Hirst and Tracey Emin among them. A storm of concern was brewing about this shock fest of British culture. Eggs and ink were thrown at Marcus Harvey's giant image of Myra Hindley made from children's hand prints; the culture wars are not new.
More exciting than Emin's sexibitionism or Hurst's formaldehyde, at least looking through my lens as a white teenager with a nebulous interest in B/black British culture, was the inclusion of outlier Chris Ofili's The Holy Virgin Mary.  The painting depicts a Black Madonna framed by images from blaxploitation movies and close-ups of female genitalia from porn magazines, and the left breast is a ball of glazed elephant dung. The collage is playful – Ofili described it as 'a hip-hop version of the story' - but it also bluntly throws up the question of black historical experience. In 1999 it became the subject of a lawsuit between the Brooklyn Museum of Art and the Mayor of New York City that brought Ofili undesired notoriety. By then he had won the Turner Prize for No Woman, No Cry, his heartrending image of Doreen Lawrence, and become an artist of international influence. Since moving to Trinidad and Tobago in 2005, Ofili has produced a body of work that bears out Paul Gilroy's contention  in The Black Atlantic  that black art, music and culture is one of transnational connections, bearing traces of Caribbean, African, American and European influences.
Unfortunately, Ofili's exceptional status did not immediately herald a period of increased visibility for black British artists. It would be hard to know from exhibitions at leading institutions through the 2000s that foundational enterprises such as the Black Arts Movement, formed in 1982 following the 1981 Brixton uprisings, even existed. Rita Keegan, a founder of the Brixton gallery who was instrumental in the movement, collected ephemera from this period (programmes, posters, photographs), without which its history would have been erased. Keegan said in an interview in 2021, 'I grew up with all these images. But also the other images that I got were the ones from school or the ones from textbooks or the ones from magazines and I was not reflected in them […] But at home I knew I had 100 years of photography and what I was seeing in art books was not reflecting my experience." (Keegan in the Guardian) The Rita Keegan Archive, as it's now known, was one of the crucial collections that made knitting together the threads of that history possible for the next generation. As Black writers from Andrea Levy to Reni Eddo-Lodge and Akala have shown, the stories that David Olusoga calls 'the forgotten history' of Britain had to be deliberately rediscovered and narrated by those it belongs to. As Ofili said of his 'No Woman, No Cry', black art demands recognition and  meaning beyond the art world.
In 2018 when I began planning a Black British Writing module at The University of Sheffield I looked for images that would resonate with the course material. I realised that my knowledge of black British art had not grown much since first encountering Ofili's work in the 90s. I'd come across F.N. Souza, Julian Akomfrah and Sonia Boyce but there was texture missing. The students were reading Andrea Levy and Bernardine Evaristo and most of them were listening to hip-hop and grime and following black celebrities on social media, but where did they find visual representations of black British lives? Students who identified as b/Black reflected that this was a familiar experience that they shared with the writers we read and that was historicized by texts like Levy's Small Island in a way that. For white students the alienating power of racism in visual culture became clearer.
I probed the question further in a freeform assessment for which students create a cultural artefact – a blog post, poster, podcast, short film. Each time I set it there are brilliant responses. Last year our guest lecturer, the poet Otis Mensah, inspired some students to write and perform their own poetry. One student produced a podcast critically debating Isaac Julien's 1991 film Young Soul Rebels, a celebration of 70s countercultures from black perspectives. The most striking visual piece reimagined Grayson Perry's satire of British values in tapestry, 'you could lay it all out for a picnic' (2014), using black cultural imagery. It captures how the stereotypical labelling of black cultures as 'vibrant' or 'multicultural' is an exoticising move that actually excuses their default absence from the white imagination. I've kept that poster and shown it to each class since.
Recently black visual culture has finally come into the British field of vision in spectacular fashion. The momentum of the Black Lives Matter movement led to initiatives to 'decolonise' cultural institutions and to expose their brutal histories; Edward Colston was toppled and is now laid out at the M Shed gallery in Bristol. As David Olusoga sagely reminds us, 'this is History' and it screams that black art is finally claiming the foreground. In 2021 and 2022 there has been  an overdue retrospective of Rita Keegan's work at the South London Gallery, the somewhat tentative transnationalism of Tate Modern's Surrealism Beyond Borders and Tate Britain's gargantuan Life Between Islands: Caribbean-British Art 1950s – Now. The breadth of this latter exhibition was almost overwhelming - it was as though trunks stuffed with the paraphernalia of black British history since the arrival of the Empire Windrush in 1948 had suddenly burst open. It included a recreation of a Caribbean-British living room in 1960s London; a glimpse into a domestic history that had been there the whole time. The ordinary everyday was represented alongside the timeline of anti-racist struggle, bearing witness, of course, to their entanglement.
The 2022 In the Black Fantastic exhibition at the Hayward Gallery went to further frontiers, exploding Afrofuturist genre-bending mischief-making onto the art scene and receiving rave reviews. Chris Ofili's work features, though as usual he maintains an apartness from the latest art craze, this time with the figurative delicacy of sculptures combining mythical and Christian imagery. To see them alongside Rashaad Newsome's pop-cultural Afroqueer and Nick Cave's Soundsuits was bewildering in a good way.
This month I'm taking a class of first year students to see Home is Not a Place, the exhibition accompanying a new book by photographer Johnny Pitts and poet Roger Robinson at The Graves Gallery in Sheffield. We're studying Robinson's collection Portable Paradise and it'll be an opportunity to put work that addresses social inequalities such as the Grenfell tower fire into conversation with Pitts' photographic explorations of black British identity via his Sheffield childhood. It's brilliant to have this resource on our doorstep. Robinson wrote on Twitter on National Poetry Day that he had spent the first 10 years of his career being invisible. Now he's very much in the spotlight and sharing it with incredible artists who are transforming public understanding of British post-war history by simply doing what they've always done -  as Birmingham-based Hurvin Anderson puts it, representing 'sites where Black people occupy.'