Dr Heidi Christensen
PhD
Department of Computer Science
Senior Lecturer
Member of the Speech and Hearing (SpandH) research group
Faculty Director of Equality Diversity and Inclusion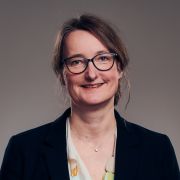 Profile

Dr Heidi Christensen is a lecturer in Computer Science and a member of the Centre for Assistive Technology and Connected Healthcare (CATCH). She has a PhD degree from Aalborg University Denmark from 2002.

She joined the Speech and Hearing Group and the University of Sheffield in 2000 and has worked on numerous European and UK funded project. Dr Christensen is active in the Faculty of Engineering's work on ensuring more women in STEM subject; she recently featured on the university's Wall of Women.
Research interests

Dr Christensen's research interests mainly concern clinical application of speech technology, spoken language processing and binaural machine listening.
Publications

Journal articles

Conference proceedings papers

Reports

Theses / Dissertations

Working papers

Datasets

Other
Grants

Current Grants

CognoSpeak UX, Research England, 06/2021 - 02/2022, £27,694, as PI
Interdisciplinary project on COMPutational Assessment of Stroke Survivors (COMPASS), Rosetrees Trust, 02/2020 - 02/2024, £124,864, as PI
UKRI Centre for Doctoral Training in Speech and Language Technologies and their Applications, EPSRC, 04/2019 - 09/2027, £5,508,850, as Co-PI
TAPAS: Training Network on Automatic Processing of PAthological Speech, EU H2020, 11/2017 - 10/2021, £468,000, as PI
Deep learning of articulatory-based representations of dysarthric speech, Google, 02/2016 - 12/2021, £46,624, as PI

Previous Grants

COMPASS: COMPutational Assessment of Stroke Survivors, Research England, 11/2019 - 06/2020, £48,886, as PI
COCOA: COmputerised COgnitive Assessment, MRC, 10/2018 to 09/2019, £49,513, as PI
CloudVent: Cloud-based speech recognition for people with paralysis using ventilators, RCUK, 10/2015 - 04/2016, £360,000, as Co-PI
Professional activities