We are a multidisciplinary group of discovery scientists, clinicians, social scientists and allied specialties with a common interest in improving the care of patients with Head and Neck Cancer.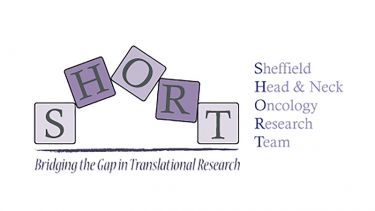 Head and Neck Cancer (HNC) is the 8th most common cancer in the UK, with incidence in Yorkshire above the national average. The term "Head and Neck Cancer" refers to cancer of the mouth, pharynx, larynx, nasal cavity and sinuses and salivary glands.
This is a cancer of unmet need, with poor prognosis and significant treatment challenges. Survival rates are imploring only very slowly, and in the face of rising incidence. This rise is particularly seen in young patients and females, and is projected to increase further for the next few decades. HNC is disfiguring, expensive to treat, and associated with extensive morbidity and mortality as many patients present with advanced disease or relapsing disease, highlighting the need for new tests and treatments.
There is considerable interest and expertise in Head and Neck cancer within The University of Sheffield and Sheffield Teaching Hospital NHS Foundation Trust. This is linked to a number of relatively small groups spread across different schools and faculties including the Departments of Clinical Dentistry, Biomedical Science, Oncology, ENT, Maxillofacial Surgery, and Clinical Oncology.
Flagship institutes
The University's four flagship institutes bring together our key strengths to tackle global issues, turning interdisciplinary and translational research into real-world solutions.