Get in touch with the research group using the contact details below and find out information about our researchers.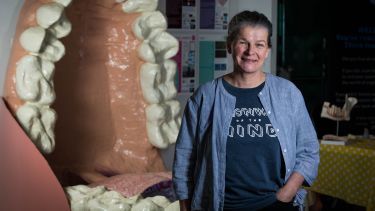 Get in touch
Referral information
If you think you need to be referred for treatment with us you can request a referral from your dentist. We will need details about you and the symptoms you're experiencing as well as information regarding any recent dental treatments.
Please send this information to:
Sheffield Trigeminal Injury Referral Service
The Charles Clifford Dental Hospital
Sheffield Teaching Hospitals NHS Foundation Trust.
For more information about collaborating with us please contact:
Professor Fiona Boissonade f.boissonade@sheffield.ac.uk
Dr Emma Bird e.v.bird@sheffield.ac.uk
---
Simon Atkins
BDS (Sheff), MFDS RCS (Edin), PhD (Sheff), FDS RCS (Eng)
Consultant Oral Surgeon and Senior Clinical Lecturer
Simon is an expert in the surgical management of trigeminal nerve repairs. He provides the major clinical input to maintain Sheffield Charles Clifford Dental Hospital as a leading internationally renowned specialist centre for nerve repair and exploration. Simon graduated from the University of Sheffield in 1999. Following this he undertook several hospital posts in Oral and Maxillofacial Surgery. Here, he gained his MFDS fellowship exam at the Royal College of Surgeons in Edinburgh. He was successfully awarded a Clinical research Fellowship from the Wellcome trust, and gained his PhD in the field of peripheral nerve repair in 2008.
In 2012, Simon was appointed at the University of Sheffield as a Clinical Lecturer/Honorary Specialist Registrar in Oral and Maxillofacial Surgery and completed his higher surgical training in the same year. Following this he was appointed as Senior Clinical Lecturer/Consultant Oral Surgeon. Simon's primary research interest relates to the mechanism surrounding regeneration of the peripheral nerve following repair, and the development of agents to improve recovery.
For more details please email s.atkins@sheffield.ac.uk
---
Professor Fiona Boissonade
BDS (Birm), PhD (Bris)
Professor of Oral Neuroscience and Director of Impact and External Engagement
Fiona completed her BDS degree at the University of Birmingham and training posts in Oral Surgery. Following this she obtained a PhD in Neuroscience from the University of Bristol School of Physiology and Pharmacology. She was then awarded a Postdoctoral Fellowship by the Medical Research Council of Canada to undertake research at the Hotchkiss brain Institute at the University of Calgary. Fiona returned to the UK to take up a post as Lecturer and then Reader in Neuroscience at the University of Sheffield School of Clinical Dentistry. In 2003 she was awarded Personal Chair and became the first female Professor in the School. Fiona's research focus is in the changes that occur following nerve injury and inflammation, and which contributes to the development of chronic pain including that in the orofacial region.
Much of this research has been done with industrial collaborators including the pharmaceutical companies GlaxoSmithKline, Pfizer and Eli Lilly. These have funded a wide range of preclinical translational studies. These studies have used human tissues to identify potential targets for the development of new pain therapies and anti-inflammatory agents for nerve damage.
Fiona is also working on projects for the improvement of nerve regeneration. This work investigates methods of improving nerve repair using therapeutic agents, bioengineered conduits and cell therapies. The work has included collaborations with the Department of Materials Science and Engineering, the Department of Biomedical Science and the Centre for Stem Cell Biology at the University of Sheffield.
For collaboration opportunities or more information please email f.boissonade@sheffield.ac.uk
---
Emma Bird
BSc (Hons), PhD (Sheff)
Research Associate
Emma joined the Oral Neuroscience Research group at Sheffield in 1996, and in 2004 completed a PhD entitled 'Immunocytochemical studies on neuromas of branches of the trigeminal nerve'. She has over 20 years of research experience working in the field of pain research with colleagues in neuroscience groups around the world. Emma has worked in collaboration with industry, and has extensive expertise in pre-clinical models, molecular biology, immunohistochemistry and microscopy.
Emma's main research focus is the mechanisms underlying nerve injury-induced and inflammatory pain, specifically in the orofacial region, arising as a consequence of trigeminal nerve injury. This is with the aim of identifying new biomarkers and therapeutic targets. She has recently started to investigate the role of psychology of chronic pain, in particular psychosocial factors such as depression, anxiety, coping and catastrophisation.
For collaboration opportunities or more information please email e.v.bird@sheffield.ac.uk
Flagship institutes
The University's four flagship institutes bring together our key strengths to tackle global issues, turning interdisciplinary and translational research into real-world solutions.