Research into trigeminal nerve damage and repair began at the University of Sheffield in the 1990s. Since then we've advanced the the treatment for trigeminal nerve repair to ensure the best outcomes for patients.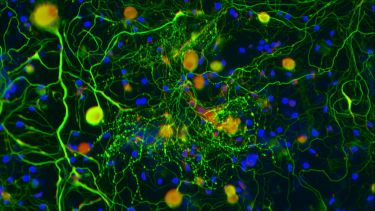 When research into trigeminal nerve repair began at Sheffield it was known that the trigeminal nerve could be repaired but outcomes were very variable. By using our pre-clinical models that have been developed to mimic the conditions we treat in our patients, we've now developed an effective method for trigeminal nerve repair.
Evaluations of our work have shown excellent outcomes, with patients seeing substantial improvements after repair. Before treatment sensation in the affected area, usually the tongue or lip and chin area, is tested using a light touch stimuli test. A fine filament is used to apply pressure to the area and assess the patient's sensation. Often patients have little or no sensation in the affected area. However, after treatment patients show an increased response.
---
Current research
We're now doing research in a number of different areas.
Nerve regeneration
Sometimes the nerve doesn't regenerate as well or as quickly as it could. We're identifying compounds which can be injected into the affected area and enhance nerve regeneration while reducing scarring and inflammation.
Improved methods of repair
In some patients, the area of damaged nerve is too large to be removed and the remaining nerve endings stitched together. We're working closely with the Department of Material Science and Engineering and the Department of Biomedical Science to develop biocompatible materials that can be used to fill the gap between nerve endings when the gap's too large.
Targeting pain
Not all patients experience pain, but for those who do it can be incredibly uncomfortable and distressing. We're looking into the nerves themselves to find out why this might be and identifying specific molecules which might be relevant in influencing the amount of pain patients are experiencing.
---
Key research
Flagship institutes
The University's four flagship institutes bring together our key strengths to tackle global issues, turning interdisciplinary and translational research into real-world solutions.