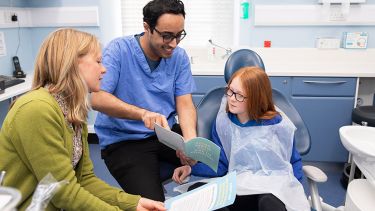 On
Dental anxiety is common among children and young people. This has significant long and short term impact on the children, their families and dental care professionals.
Children with dental anxiety often avoid or delay dental care due to their fear, which can lead to an increased prevalence of untreated and decayed teeth, this may ultimately lead to discomfort and a reduced quality of life. Until recently, dental anxiety has been managed using techniques such as sedation or general anaesthetic. However, these approaches are costly for the NHS and only manage rather than reduce a child's anxiety.
---
I think children find it useful to see that other children have anxieties similar to their own.

Specialist registrar in paediatric dentistry
---
In 2016 we conducted a study which aimed to provide a better way of managing dental anxiety in children. We identified Cognitive Behavioural Therapy (CBT) as a solution. This well established approach is a goal oriented therapy which aims to help people manage their problems by changing how they think and behave to a problem. It provides an alternative option to sedation or general anaesthesia as it reduces the problem rather than supplying a short term solution.
This was followed by a study to assess the feasibility of using a CBT approach to help children who were worried about visiting the dentist, or having treatment. The study provided evidence that a self-help CBT resource for young people with dental anxiety could be effective at reducing dental anxiety and its consequences. Both the young people and their parents thought the resource was a great asset. Dental professionals also found the guide, 'Your teeth you are in control', and the CBT approach to be very helpful.
The Five Areas model of CBT focuses on the patient's life situation, altered thinking, altered behaviour, altered emotions and altered physical symptoms associated with their anxiety. It is a model of CBT that has been used to inform a series of self-help resources for patients with a variety of common mental health problems, including our resources for children with dental anxiety.
---
CALM is a research project investigating ways to reduce children's fear of the dentist. CALM is being carried out by researchers (from universities in Sheffield, Cardiff, Leeds, Newcastle, London and York) with help from children, parents, dental professionals and patient representatives.
---
These papers show the translation of our research, from realising the problem through to developing a useful solution.
Flagship institutes
The University's four flagship institutes bring together our key strengths to tackle global issues, turning interdisciplinary and translational research into real-world solutions.