Bioengineering Bacterial Lab
(Room 3.18 - Third Floor)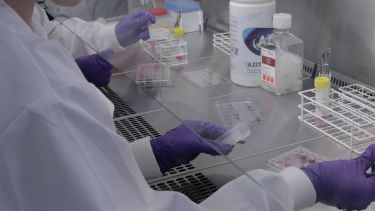 Overview:
The Bioengineering Bacterial Laboratory is equipped with the latest biomanufacturing technologies used in the pharmaceutical and bioscience industry. 
Students can culture microorganisms in small scale bioreactors for the production of bioproducts such as antibodies, enzymes, growth factors and vaccine antigens, which are used in the treatment of cancer, immune disorders, infections and disease.
The laboratory features a high-pressure homogeniser for efficient disruption of microbial cells, as well as a comprehensive chromatography system for the purification of proteins, peptides and nucleic acids. Further equipment, such as thermal cyclers and electrophoresis systems, enable students to characterise the bioproduct produced. In conjunction with The Diamond Pilot Plant, the bioprocess can be scaled-up using industrial microbial bioreactors. Facilities also exist for the design, manufacture and testing of student designed systems.
Students will learn:

How to culture bacteria, yeast and algae in bioreactor systems.
The experimental processes involved in the manufacture of a bioproduct.
How to design experiments to measure the quantity and quality of a bioproduct.

What equipment is in this lab?

Class II Biological Safety Cabinet for microbial cell culture
Superspeed centrifuge (29,000 rpm, 100,605 x g, 6 x 1 L capacity)
3 shaking incubators
2 static incubators
1L microbial bioreactor
High pressure homogeniser
FPLC - fast protein liquid chromatography
HPLC - high performance liquid chromatography
Horizontal gel electrophoresis systems for separating nucleic acids
ChemiDoc imaging system for gels and blots
Fluorescence plate reader
Thermal cycler for PCR (polymerase chain reaction)
UV-Vis spectrophotometers
pH meter

Who uses this lab? / Links to other Departments:

Which staff are in this lab?

Request Use of Equipment:

Please email claire.johnson@sheffield.ac.uk with:

Your name
Your degree & year of study
What equipment you want to use and why

Please allow 3-5 working days for a response.
A world top-100 university
We're a world top-100 university renowned for the excellence, impact and distinctiveness of our research-led learning and teaching.