Bioengineering Tissue Lab
(Room 3.11 - Third Floor)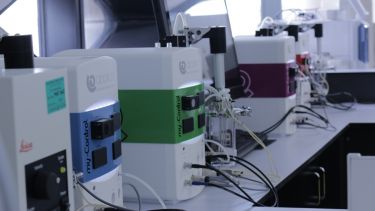 Overview:
The Bioengineering Tissue Laboratory has the facilities to assess how materials interact with the human body. Using high specification equipment students can learn how to apply aseptic techniques for the preparation of medical samples and biomaterials with cells. The health and function of cell cultures can be tested by measuring the quality and quantity of protein and nucleic acid using plate reading spectrophotometers, electrophoresis systems, histology techniques and microscopy.
The laboratory contains ten inverted phase contrast microscopes equipped with digital cameras, which enable students to learn imaging techniques. High-level optical performance and fluorescent microscopy is also available, as well as the capacity to perform live cell imaging.
In addition, students can learn about the experimental processes required to culture mammalian cells using mini-bioreactor systems for production of therapeutic proteins. For students studying how medical device systems are used in a clinical setting, a suite of transducers and electrodes that measure and report physiological signals are available.
Students will learn:

How to culture mammalian cells with biomaterials.
How to design experiments to test and evaluate biocompatibility using a range of biochemical assays.
How to use staining techniques and microscopy to image cells and tissues.
The experimental processes required to culture mammalian cells in bioreactor systems.
How to use transducers and electrodes to measure physiological signals.

What equipment is in this lab?

10 Class II Biological Safety Cabinets for mammalian cell culture
2 Static incubators
Shaking incubator
10 Inverted phase contrast light microscopes with digital cameras
2 Live cell imaging systems
Fluorescence microscope
Cryostat microtome for sectioning biological tissue                                                                                                                   
Absorbance plate reading spectrophotometers
4 Mini bioreactors for mammalian cells (0.5L)
ViCell automated cell counter
Vertical gel electrophoresis system for separating proteins
Gel Doc EZ imaging System for detecting protein and DNA in gels
10 ADInstruments teaching system kits for measuring and recording physiological signals

Who uses this lab? / Links to other Departments:

Which staff are in this lab?

Request Use of Equipment:

Please email Claire.jonhson@sheffield.ac.uk with:

Your name
Your degree & year of study
What equipment you want to use and why

Please allow 3-5 working days for a response.
A world top-100 university
We're a world top-100 university renowned for the excellence, impact and distinctiveness of our research-led learning and teaching.