Our students benefit from world-class facilities and support, designed to provide an excellent learning experience throughout your time at University.
With brand new engineering teaching spaces and an award-winning Students' Union, you'll be encouraged and supported in every aspect of your University life, with a team of academic and administrative staff on hand to offer help and guidance.
The Diamond
This £81 million building - our largest ever investment in learning and teaching - is a fantastic place for modern interdisciplinary teaching.
The building houses 19 specialist engineering teaching laboratories as well as a range of lecture theatres, seminar rooms, open-plan learning spaces, library services and social spaces, including a café. Our students can expect to spend most of Year 1 and Year 2 being taught in The Diamond.
Find out more about The Diamond
---
The iForge
Housed in the University's flagship Diamond building, our innovative facility, The iForge, is giving students the opportunity to collaborate, create and 'make' outside of their academic studies.
Believed to be the first of its kind in a UK university, the iForge is managed by a team of 24 student Reps. This student-led approach has seen University staff relinquish control of the space, allowing students themselves to make decisions about how the iForge is run.
As well as supervising and assisting other students for three hours a week each, they manage everything from procuring and maintaining equipment and materials to developing relationships with industrial partners and alumni.
Housing a wide range of equipment, from traditional hand tools and a sewing machine to state-of-the-art laser cutters and 3D printers, the possibilities for what can be made in the iForge are limitless. So far hundreds of students have produced a diverse array of products, including battle robots, 3D printed Christmas decorations, parts for tribology research and a fully moving Thomas the Tank Engine cake.
They've also made components for large-scale ventures, such as the ambitious project, Formula Student, to design and build a single-seat racing car.
---
Students' Union
Our Students' Union is consistently rated as the best in the country, having rated #1 in the Times Higher Education Student Experience Survey in 2010, 2011, 2012, 2013, 2014, and 2015. With over 300 clubs and societies, an award-winning Sheffield Volunteering Scheme, and an excellent Student Advice Centre, our Students' Union is an exciting and supportive part of the Sheffield community.
We've expanded the student's union building so there's even more room for the things you want to do. You'll find study spaces, night clubs, cafes, shops, and vital support services.
---
University support services
The Student Services Information Desk (SSID), situated in the Students' Union, is there to offer key information as well as advice and guidance throughout your studies. The SSID help with general enquiries and can point you to the most relevant information sources and services. 
The University offers a variety of support services, including the Student Job Shop, Sheffield Mentoring, the Careers Service, and Maths and Statistics Help (MASH).
---
Award-winning accommodation
Our University accommodation was voted best in the UK by students in the Times Higher Education Student Experience Survey 2014–15 and we were named Best Student Housing at the 2012 College and University Business Officers (CUBO) awards.
Whether you choose to live in one of our two student villages or in the city and central campus, you'll find a safe, comfortable place to live and flexibility and choice in your options.
---
Outstanding sports facilities
We've got excellent facilities, including two premier-standard football pitches, a high-tech gym, and one of the largest fibreglass moulded bouldering walls in the country. With over 50 sports clubs covering everything from fencing to snowboarding, and the Peak District right on your doorstep, there's plenty of opportunities to get involved.
Our Give it a Go scheme lets you try out as many activities as you like without making a commitment, while there are also opportunities to join a sporting league or even train with expert coaches to represent the University in national competitions.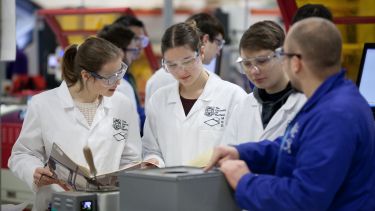 A world-class university – a unique student experience
Sheffield is an engineering research university with a global reputation for excellence. We're a member of the Russell Group: one of the 24 leading UK universities for research and teaching.
Flagship institutes
The University's four flagship institutes bring together our key strengths to tackle global issues, turning interdisciplinary and translational research into real-world solutions.