Electronics and Control Lab
(Room 2.02 - Second Floor)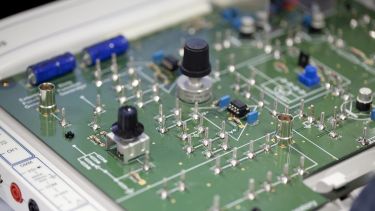 Overview:
The Electronics and Control laboratory is a cutting-edge facility for practical experiments, allowing students to design, build, test, and measure electronic devices and circuits, alongside control systems for robotics and industrial automation.
The teaching in this lab covers all aspects of electrical, electronic, and control systems hardware and software, from large-scale DC and AC motors, generators, and drive units to precision miniaturised surface mount oscillators.
The Electronics and Control laboratory features high-specification equipment from National Instruments (NI), Quanser, and Keysight, and provides experiments ranging from simple soldering to signal analysis, and from transistors to transformers. Students also gain access to real-world applications, such as Heating Ventilation and Air Conditioning (HVAC) systems and industry standard Programmable Logic Controllers (PLCs).
The lab setup includes the innovative and adaptive NI Educational Laboratory Virtual Instrumentation Suite (ELVIS). This suite can be used across the entire multi-disciplinary engineering curriculum, and is experienced by engineering students from across the faculty. It allows a hands-on laboratory experience, not just in typical areas of analogue and digital electronics, but also control systems and communications technologies.
Students will learn:

How to design electronic circuits, construct them by soldering or using prototyping board, then test their own creations.
How to design and build robotic systems such as manipulation arms or buggies, with suitable control algorithms and testing
How to use industry standard test and measurement equipment for both electronics and high power electrical systems.
How to implement feedback control systems and measure their effects, in a range of applications.
How to integrate physical devices and systems with programmable electronic components, such as microcontrollers, FPGAs and logic controllers.

What equipment is in this lab?

72 workbenches, each including:

NI ELVIS multi-instrument education platform 
Oscilloscope
Waveform Generator
Bench Multimeter
DC Power Supply
High power isolated AC supply
Quanser servo motor system
Soldering Iron

The lab also has shared equipment for use in specific sessions:

Digilent Nexys 4
FPGA
NI myDAQ data acquisition
Keysight Network Analyser
Keysight LCR Meter
Source Measurement Unit
Advanced Solder Rework Station
Voltera PCB Printer
PCB Drills
DC and 3 phase AC machine sets
PLC manufacturing factory model

Links to other Departments:

Which staff are in this lab?

Request Use of Equipment:

Please email j.fullwood@sheffield.ac.uk with:

Your name
Your degree & year of study
What equipment you want to use and why

Please allow 3-5 working days for a response.
A world top-100 university
We're a world top-100 university renowned for the excellence, impact and distinctiveness of our research-led learning and teaching.