A new resource for behavioural science - developing tools for understanding the relationship between behaviours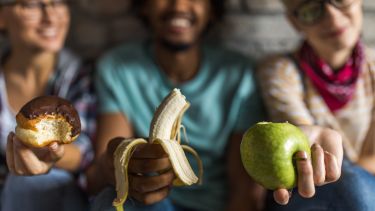 A team led by Professor Thomas Webb at the University of Sheffield's Healthy Lifespan Institute and the Department of Psychology has been awarded £435,894 from the Economic and Social Research Council (ESRC) to develop tools to understand the relationship between behaviours.
Professor Webb explains the background to the project and sets out what the team of experts hope to achieve:
Do people who go to bed earlier and sleep for longer exercise more during the day? Is driving behaviour associated with whether people recycle or help other people? What if someone carries a reusable coffee cup? Are they more likely to conserve biodiversity at home (e.g. put up a bird box)?
Some associations between behaviours are intuitive (e.g. people who are more physically active may sleep longer, either because they view both as 'healthy' behaviours or because active people need more rest), while others are less intuitive (e.g. relations between driving behaviour and efforts to conserve biodiversity). Psychologists and other behavioural experts often view behaviours in isolation - for example seeking to improve sleep or increase levels of physical activity. However, everyday life is characterized by a wide range of behaviours, so it is crucial to understand how behaviours are related to one another. For example, sometimes changes in one behaviour 'spillover' into changes in another (e.g. increasing physical activity leads people to also make more healthy food choices); at other times they can lead to compensation (e.g. increasing physical activity leads people to consume more calories). 
Fortunately, a lot of studies looking at the relationships between behaviours already exist. Any study that measures two or more behaviours and reports the correlation between them, or that provides access to data that allows the correlation to be calculated, can provide an estimate of their relationship, which can be pooled across datasets. However we currently lack the tools to understand and aggregate this data.
The team will start by developing tools to allow behavioural scientists to define behaviours, along with their similarities and differences, by creating a structured model (e.g. that drinking alcohol and taking cocaine are both examples of substance use, but only using cocaine is illegal).
They will then collate data from published papers and large secondary datasets on the relationship between behaviours and develop a set of tools - termed a "collaborative workbench" - that will allow researchers to enter their own information to enable easy, rapid, and efficient generation of new knowledge.
Finally, the team will develop ways to visualize the data and allow users to ask questions to the community and to query the knowledge base. This will provide robust answers to questions about how behaviours are related.
Professor Webb is joined on this project by a team of psychologists and computer scientists from the University of Sheffield:
Fabio Ciravegna, Paul Norman, Suvodeep Mazumdar, Vitaveska Lanfranchi, Richard Rowe, Vyv Huddy and Alex Scott.
Flagship institutes
The University's four flagship institutes bring together our key strengths to tackle global issues, turning interdisciplinary and translational research into real-world solutions.