Dr Andrea Jimenez
MSc (Royal Holloway), PhD (Royal Holloway)
Lecturer in Information Management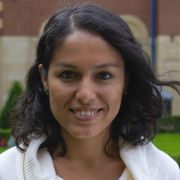 Profile

I have recently completed a position as post-doctoral research associate at the Sheffield Institute of International Development (SIID). I hold a PhD from the School of Management at Royal Holloway University of London and a Masters in Sustainable Development, with a focus on social innovation and ICTs for Development (ICT4D). As part of my PhD, I have been conducting in-depth qualitative research on technology and innovation hubs, focusing on innovation processes occurring within hubs in both the Global North and Global South. I complement this academic career with substantial industry experience, having worked for the United Nations in both the Food and Agriculture Organisation (FAO) and the International Telecommunications Union (ITU), in addition to the Alliance for Affordable Internet (A4AI). My research interests revolve around the impact of digital innovation, social innovation and entrepreneurship.

Besides my teaching and research responsibilities I am also going to be focusing on internationalisation and decolonisation of the curriculum.
Research interests

My research evolves around the role of innovation in socioeconomic development. I explore this from two distinct dimensions: the internal processes within organisations, by looking at absorptive capacity, knowledge sharing and collaboration; and the wider geopolitical dimension around innovation discourses embedded in the international development sector.

As part of my postdoc I have developed a new research project titled 'Adopting epistemologies of the Global South to reimagine innovation for social inclusion and environmental sustainability'. This project gathers leading experts interested in exploring the extent to which innovation (policy & implementation) can be guided and informed by indigenous knowledges.
Publications

Show: Featured publications All publications

Featured publications

Journal articles

Chapters

Conference proceedings papers

All publications

Journal articles

Chapters

Conference proceedings papers
Teaching interests

I am currenly contributing to the INF6025 Information Governance and Ethics module.

I also supervise dissertation students.

I am also responsible for the INF6525 Information Governance and Ethics (distance learning) module.
Professional activities

Invited presentations

2018 African Innovation Summit (AIS), in Rwanda
22-24 October 2018 Global Network for Economics of Learning, Innovation, and Competence Building Systems (GLOBELICS) in Accra, Ghana
2019 Department of Human Geography at Frankfurt University