The inspirational Western Bank Library – dubbed the serene and supreme million print volume library - houses extensive research collections, and offers a learning environment designed to inspire your best work.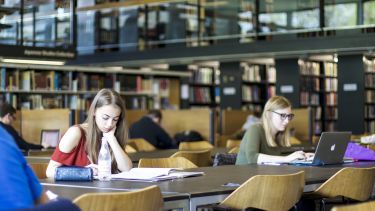 For current opening times please visit our Library Sites web page.
The Grade two listed building, officially opened in 1959 by the poet TS Eliot, is also home to our Special Collections.
It predominantly serves Faculties of Art and Humanities, Science, Social Sciences and Engineering.
At Western Bank Library, you will be among brilliant minds. Level five plays host to the inspirational Sheffield Authors Showcase - a celebration of the impact of the research and teaching at the University of Sheffield.
We are proud to honour the achievements of our academic community, both by celebrating their contribution to academic endeavour and by recognising the impact their scholarly works has had on readers.
---
Features and services
Western Bank Library services include:
Over 700 learning spaces
Extensive research collections
A traditional reading room, with quiet learning spaces, and picturesque views
An exhibition gallery providing an opportunity to see high quality, visually stimulating displays
Vast collections predominantly serving the Faculties of Art and Humanities, Science, Social Sciences and Engineering
Home to an array of primary source materials housed in our Special Collections
Home to the unique - world-renowned - National Fairground and Circus Archive
Late opening throughout the academic year
Face-to-face consultation and drop-in zones
Staff on-hand to provide help and expert advice
Convenient self-service facilities
Open to external members
A world top-100 university
We're a world top-100 university renowned for the excellence, impact and distinctiveness of our research-led learning and teaching.