Find site-specific resources and information to help you plan your visit to Health Sciences Library at the Royal Hallamshire Hospital.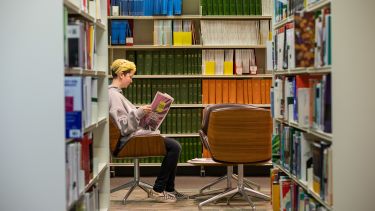 For the latest Library information, visit our Library news page.
The Health Sciences Library serves the staff and students of the Faculty of Medicine, Dentistry and Health and staff of the NHS in Sheffield. Its collections cover medicine, dentistry, nursing and midwifery.
---
University of Sheffield
Beech Hill Road
Sheffield
S10 2RX
Telephone: +44 114 222 7335
Sheffield Teaching Hospitals internal telephone: 827335
Enquiries: +44114 222 7200
Email: library@sheffield.ac.uk
Directions: via Google maps
Planning your visit
How many people are currently there?
Learn about access and evacuation
Download a floor plan (PDF, 302KB)
---
Site-specific resources
Medicine, Dentistry and Health Liaison
---
Library information
Customers with additional support requirements (Inclusive Learning)
---
Planning your visit
Learn about access and evacuation
Download a floor plan (PDF, 1.80MB)
---
Site-specific resources
Medicine, Dentistry and Health Liaison
---
General Information
Customers with additional support requirements (inclusive learning)
---
| | |
| --- | --- |
| QS | Human anatomy |
| QT | Physiology |
| QU | Biochemistry |
| QV | Pharmacology |
| QW | Microbiology and immunology |
| QX | Parasitology |
| QY | Clinical pathology |
| QZ | Pathology |
| W | Medical profession (including education) |
| WA | Public health and health administration |
| WB | Medicine general |
| WC | Infectious diseases, AIDS |
| WD | Deficiency and metabolic diseases, allergy, aerospace medicine |
| WE | Musculoskeletal system |
| WF | Respiratory system |
| WG | Cardiovascular system |
| WH | Haemic and lymphatic systems |
| WI | Gastrointestinal system |
| WJ | Urogenital system |
| WK | Endocrine system |
| WL | Nervous system |
| WM | Psychiatry |
| WN | Radiology and medical imaging |
| WO | Surgery |
| WP | Gynaecology |
| WQ | Obstetrics |
| WR | Dermatology |
| WS | Paediatrics |
| WT | Geriatrics and chronic disease |
| WU | Dentistry and oral surgery |
| WV | Otorhinolaryngology |
| WW | Ophthalmology |
| WX | Hospitals and other health facilities |
| WY | Nursing |
| WZ | History of medicine |