We have a range of membership options, including the ability to join the Library with access to borrowing.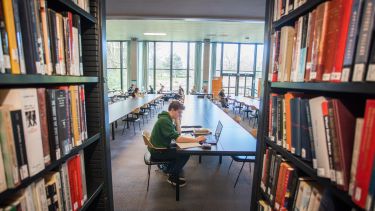 Online applications are now accepted for all options except schools and colleges.
The Library is not accessible to external reader members during assessment periods.
For other categories, the access to Library sites will be limited during revision periods.
---
Alumni are eligible for free membership of the Library.
---
We are a member of SCONUL Access, which provides staff and students at participating higher education libraries in the UK and Ireland with access to our facilities and borrowing.
---
Members of the public are welcome to visit the Library for reference use of printed items, to use the reading spaces, and in some cases, as a borrower. Find out about the membership options available and how to apply.
---
We welcome employees of Sheffield Teaching Hospitals (STH) from the following hospitals to register as external borrowers:
Northern General Hospital
Royal Hallamshire Hospital
Jessop Wing
Weston Park Hospital
Charles Clifford Dental
---
We welcome local schools and colleges to visit the Library, for tours and for librarian-led workshops, where your students can develop skills and learn more about our Special Collections.
The Library is not accepting membership applications from school and colleges at this time. 
---
Postgraduate Research students from the Universities of York and Leeds can become affiliated PGR members of our Library.
---
Membership is available if you are 19, or over, and you have a genuine need – which is unavailable from your local library - to use our resources for learning or research
Visitors to Western Bank Library are required to apply for an External Borrower Ucard (fees may be charged) or an External Reader Ucard. Visitors to Health Sciences Library (Royal Hallamshire Hospital) may obtain a day pass
You'll be sharing our spaces with University staff and students and you'll notice that at certain times of the year Library sites get very busy. Please be considerate of other Library users and don't forget the staff you see at our information points are there to help
At certain times of the year visitor access will be restricted to prioritise use for University students, so please always check in advance of any visit.
A world top-100 university
We're a world top-100 university renowned for the excellence, impact and distinctiveness of our research-led learning and teaching.