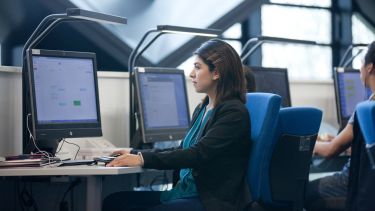 How to apply
Applications to join SCONUL Access can be made online.
Western Bank Library - Limited Access
Access to Western Bank Library is currently limited due to works being undertaken on site. For more information on access visit our Library news page. For the most up to date information from Estates and Facilities Management (EFM), visit the dedicated project page.
We are a member of SCONUL Access, which provides staff and students at participating higher education libraries in the UK and Ireland with access to our facilities, books, journals, and in some cases borrowing too.
If you have any enquiries, please contact the Virtual Advisory Help Service, or visit Western Bank Library or the Health Sciences Library (Royal Hallamshire Hospital) during staffed hours.
We also offer reference access to visiting SCONUL students during the summer vacation period. All you'll need is your valid University of Sheffield visitor Library card. Please note that this scheme is currently NOT available to undergraduate students. 
Find out about the SCONUL Summer Vacation Access Scheme
Please note that the library is NOT accessible to SCONUL Band R or reference only members during assessment periods:
Tuesday 4 January to Friday 4 February 2022 (inclusive)
Monday 9 May to Friday 10 June 2022 (inclusive)
A world top-100 university
We're a world top-100 university renowned for the excellence, impact and distinctiveness of our research-led learning and teaching.