Exhibitions and Engagement
We offer an exciting programme of collection led exhibitions, talks and events at Western Bank Library and other venues.
All our exhibitions and events are free and open to the public.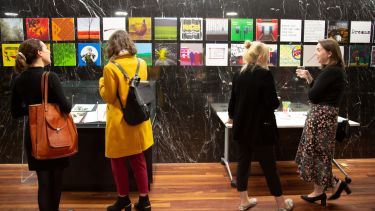 Exhibitions
The Special Collections, Heritage, and Archives Team work with our academics and communities to create a dynamic, accessible and engaging exhibition programme to showcase our unique and fascinating collections.
---
24 January – 11 June 2022
Engineering Fun: The Story of Orton & Spooner 
An exhibition of over two hundred original drawings, plans and photographs from the Orton and Spooner Collection, made possible by a grant from the National Manuscripts Conservation Trust (NMCT) and the University of Sheffield Library.
George Orton, Sons & Spooner Ltd were one of the most significant fairground ride and equipment manufacturers in Britain between the Victorian era and the middle of the twentieth century. The exhibition explores the history of the company, the evolution of fairground rides, fairground architecture, physics and engineering and fairground art.
More information can also be found here.
---
The Library's Special Collections, Heritage, and Archives Team works with a diverse range of academics, creatives and communities on many different projects and events throughout the area. This can range from producing academic talks to collection-inspired events with local mental health charities.
The National Fairground and Circus Archive publish a regular newsletter for our subscribers.
We are on Facebook and Twitter.
https://www.facebook.com/nfcarchive/
https://twitter.com/fairarchives
https://twitter.com/speccollshef
We produce blogs which are published online
http://librarysupport.group.shef.ac.uk/libraryblog/category/unique-distinctive-collections/ 
---
One Hundred Views of the Arts Tower
One Hundred Views of the Arts Tower was a collaboration between Sheffield design company Our Favourite Places, Special Collections, and the University Archive. It brought together one hundred separate artworks: photographs; embroidered art works; paintings; ceramics; oral histories; films and sculptures, shared through an open call for contributions from any citizen of Sheffield for whom the iconic Arts Tower has, or had, special significance in their lives. The exhibition included historical photographs from the University of Sheffield Archive of the Arts Tower going through the stages of design and construction
 
Mirrors and Ribbons: reflection on female form in the Circus
Part of the University of Sheffield's Festival of the Mind Festival this project was a collaboration between a PhD Psychology student, a Sheffield based circus theatre performer and the National Fairground and Circus Archive. The narrative led performance examined attitudes towards female body image and used psychology research to share new approaches to body positivity through self-compassion and gratitude. The project culminated with a live performance in Sheffield Cathedral.