Exhibitions and Engagement
We offer an exciting programme of collection led exhibitions, talks and events at Western Bank Library and other venues.
All our exhibitions and events are free and open to the public.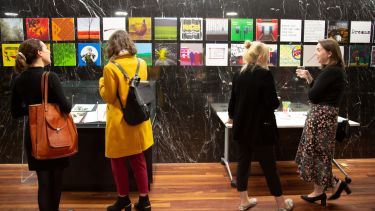 The Special Collections, Heritage, and Archives Team work with our academics and communities to create a dynamic, accessible and engaging exhibition programme to showcase our unique and fascinating collections.
---
Our next exhibition in Western Bank Library will be The Power of Creativeness: Champernowne, Withymead, Jung which opens Monday 23rd January 2023. 
The exhibition explores the archive of Irene Champernowne which was donated by the Champernowne Trust to Special Collections. 
---
24 January – 11 June 2022
Engineering Fun: The Story of Orton & Spooner 
An exhibition of over two hundred original drawings, plans and photographs from the Orton and Spooner Collection, made possible by a grant from the National Manuscripts Conservation Trust (NMCT) and the University of Sheffield Library.
George Orton, Sons & Spooner Ltd were one of the most significant fairground ride and equipment manufacturers in Britain between the Victorian era and the middle of the twentieth century. The exhibition explores the history of the company, the evolution of fairground rides, fairground architecture, physics and engineering and fairground art.
More information can also be found here.
---
If you would like to host an exhibition with us, please read our Aims of the Exhibition and Display Programme and email us with your interest: 
Aims of the Exhibition and Display Programme
Our exhibitions programme is planned in advance and approved by the Library Exhibitions Group.
---
The Library's Special Collections, Heritage, and Archives Team works with a diverse range of academics, creatives and communities on many different projects and events throughout the area.
We undertake a variety of outreach and engagement activities such as teaching sessions, attending fairs and festivals, and local community workshops.
University Heritage Collection and Festival of the Mind Project
The University Heritage Collections and Department of Chemistry collaborated and took part in the Festival of the Mind 2022.
'Kunststoff: Plastic – The Material of Art' is a project initiated by Professor Tony Ryan from the Department of Chemistry and the Heritage Collections Manager, collaborated with loacl sculptor Anthony Bennett, to create a new artwork by repurposing of redundant plastic materials generated from the restoration project of the 'Graduation' textile artwork by Diana Springall which is part of the University Heritage Collection. 
Find out more about Kunststoff and Festival of the Mind 2022. 
---
The National Fairground and Circus Archive are on Facebook and Twitter:
NFCA TwitterSpecial Collections are on Twitter: 
Special Collections, Heritage, and Archive produce blogs which are published online:
We also have short films available on You Tube:
---
Telephone: 0114 222 7299