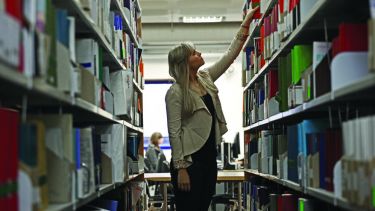 Off
How to apply
We offer fee-paying and non-fee paying membership options dependent upon your circumstances.
The following is a list of those entitled to non-fee paying external borrower membership of the library:
Member of the University Court or Council
Teacher or FE lecturer employed in South Yorkshire
Member of the Society of Glass Technology
Clergy in the Sheffield area
GP in the Sheffield area
The University of Sheffield retired staff
Community researchers (A project that aims to build a UK network of non-university researchers by improving and extending their access to academic library resources. Members are given a reference/verification number via the project when applying as proof of affiliation )
Confucius Institute (specific programmes only - CALI programme/Engineering Summer School/Applied Linguistic and Language Policy)
Asylum Seekers and Refugees
Applicants should fill in an external borrower form on the web pages, attach a photograph and any evidence in support of their application if necessary.
Members of the public are welcome to visit the Library for reference use of printed items, to use reading spaces, and in some cases, as a borrower.
As an external borrower, you can:
Access Western Bank Library and The Health Sciences Library sites at the Royal Hallamshire Hospital during staffed hours
Consult the Library's print collections - thousands of books, journals and other resources
Borrow up to 5 items at a time. Items will automatically renew unless someone else requests them
Discover materials using StarPlus
Request books and manage your Library Account through StarPlus
Explore our unique and original library collections
Services available
Guest WiFi (please ask at the Information Desk for details)/Eduroam access for SCONUL members (if your home institution uses it)
Self-service photocopiers/scanners
Onsite access to some e-journals - complete a registration form to use the dedicated Walk-in access PCs in Western Bank Library and the Health Sciences Library sites to view electronic journals where the publisher permits access, in addition to many open access journals
Fee paying membership
The library also offers fee paying membership of the library for either 3 or 12 month periods. Fee paying members are entitled to the same services as non-fee paying borrowers, as listed above. 
3 month membership £15
12 month membership £50
If you have any enquiries, please contact the Virtual Advisory Help Service, or visit Western Bank Library or the Health Sciences Library (Royal Hallamshire Hospital) during staffed service hours
A global reputation
Sheffield is a research university with a global reputation for excellence. We're a member of the Russell Group: one of the 24 leading UK universities for research and teaching.