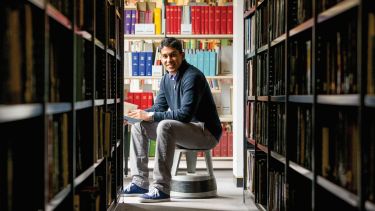 Western Bank Library - Limited Access
Access to Western Bank Library is currently limited due to works being undertaken on site. For more information on access visit our Library news page. For the most up to date information from Estates and Facilities Management (EFM), visit the dedicated project page.
Membership details
As an Alumni member, you can
Access Western Bank Library and The Health Sciences Library at the Royal Hallamshire Hospital during staffed hours
Access the Information Commons during staffed hours
Consult the Library's print collections - thousands of books, journals and other resources
Borrow up to 5 items at a time. Items will automatically renew unless someone else requests them
Discover materials using StarPlus
Request books and manage your Library Account through StarPlus
Explore our unique and original library collections
Services available
Guest WiFi (please ask at a Library Information point for details)
Self-service photocopiers/scanners
Onsite access to some e-journals - complete a registration form to use the dedicated Walk-in access PCs in Western Bank Library and the Health Sciences Library sites to view electronic journals where the publisher permits access, in addition to many open access journals
A world top-100 university
We're a world top-100 university renowned for the excellence, impact and distinctiveness of our research-led learning and teaching.