The Peter Blundell Jones Archive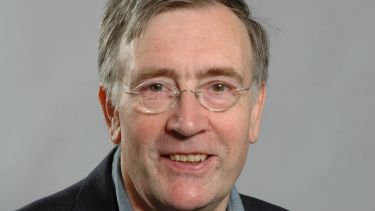 Peter Blundell Jones
Professor Peter Blundell Jones (1949-2016), or PBJ as he was often known, was a distinguished architectural historian who joined the School of Architecture at the University of Sheffield in 1994. Blundell Jones published on a prolific scale, writing over 500 journal articles and 13 books, including monographs of the work of previously marginalised architects including Hans Scharoun and Hugo Häring. Although predominantly an academic, PBJ also practised as an architect, designing a number of buildings including The Round House in Stoke Canon, Devon, which he built for his parents, and features in Pesvner's Buildings of England; and converting the 18th century Padley water mill into his family home. 
The Collection
The archive covers PBJ's entire career, from his training at the Architectural Association School in the late 1960s, up until his death in 2016, and contains correspondence, research and teaching notes, architectural drawings and photographic material. The collection covers his research in many subjects including 19th and 20th century architects, the birth of modernism, urban history, architecture and ritual, architecture and landscape, architecture of China, Japan and Korea, and the history of architectural education. Of particular significance are a number of recordings of interviews with leading international architects including Giancarlo di Carlo, Peter Hübner and Günter Behnisch; and a large slide library of photographs of buildings around the world compiled by Blundell Jones. 
Cataloguing Project
Peter Blundell Jones' widow, Christine Poulson, made the decision to donate the archive to the University, and has written about the process of preparing the archive for transfer to the Library in a blog entitled Packing up a Life. This offers a fascinating insight into the practical challenges and emotions which archive depositors face.  
Once the archive was received by the Library the process of repackaging, arranging and cataloguing the collection began. The project archivist chose to arrange the collection according to PBJ's work, with sections relating to his teaching, research and his own practice, as well as material grouped by format and type, such as correspondence, photographic material and audio visual recordings. The archive also includes born digital files, which mainly dated from the mid 2000s onwards, and again cover all aspects of PBJ's working life. 
Eighteen months after depositing the archive Christine visited the Special Collections reading room to consult the archive, and wrote about her experience of viewing plans of her own house, Padley Mill, in a formal archive setting. Read Christine's experiences here.
Digitisation
An additional project is now underway to digitise and individually catalogue both the slide library and the oral history interviews, as these have been identified as being of significant historical value, and likely to be in high demand by researchers. The slide library contains approximately 10,000 35mm slides that are being scanned at a high resolution and will be available alongside descriptions of the buildings and landscapes photographed where these can be identified. The cassette tapes and minidiscs, which hold the oral history recordings with a number of architects, will also be catalogued in more detail and digitised to allow easier access to researchers.  
The catalogue for the Peter Blundell Jones Archive is now available to search on our online catalogue:
Discover Our Archives Material is available for consultation in our reading room: 
For further information about the Peter Blundell Jones Archive, or to make an appointment to view the collection, please contact us:

Mariam Yamin, Archivist
Special Collections, Heritage, and Archives
A global reputation
Sheffield is a research university with a global reputation for excellence. We're a member of the Russell Group: one of the 24 leading UK universities for research and teaching.