The Special Collections, Archives and Heritage team (SCAH) collect, preserve and provide access to our extraordinary collections of archives, rare books, artwork and objects.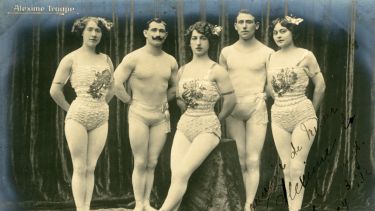 Special Collections, Archives and Heritage comprises of:
Special Collections and Archives, which holds major collections of rare and specialised books and academic archives covering a wide range of subjects and time periods.
The National Fairground and Circus Archive, which holds collections embodying the history of popular entertainment in the United Kingdom from the seventeenth century onwards. It covers the history of the travelling fair, circus and allied entertainments, such as early film, magic, boxing, variety and amusement parks, as well as the culture, business and life of travelling showpeople.
The Heritage Collections, which consist of thousands of objects that the University has acquired since its foundation in 1905.
---
Policies
Heritage Collections:
Heritage Collections Acquisition and Disposal Policy
National Fairground and Circus Archive (NFCA):
NFCA Acquisitions and Disposals Policy
Special Collections and Archives:
Discover Our Archives Accessibility Statement
Special Collections and Archives Care and Conservation Policy
Special Collections and Archives Collection Development Policy
---
Heritage Collections Advisory Panel

Link to Heritage Collections Advisory Panel Terms of Reference

Professor Gill Valentine, Provost & Deputy Vice-Chancellor (Chair)

Anna Clements, Director of Library Services & University Librarian (Interim)

TBC, Representative from Campaigns and Alumni Relations

Dr Jo Viney, Department of Finance

Angela Haighton, Head of Special Collections, Archives, and Heritage

Emily Green, University Heritage Collections Manager (Secretary)

TBC, Representative from Estate, Maintenance and Facilities

Faculty representatives:

- Arts and Humanities: Professor Mary Vincent

- Engineering: Professor Rob Dwyer-Joyce

- Medicine, Dentistry & Health: Dr Simon Johnston

- Science: Dr Gavin Thomas

- Social Sciences: Professor Malcolm Tait

National Fairground and Circus Archive Advisory Committee

Ellie Reynolds, Associate Director of Library Business Services (Chair)

Professor Vanessa Toulmin, Director of City & Cultural Engagement, Partnerships and Regional Engagement and Chair of Early Film and Popular Entertainment, School of English, University of Sheffield

Graham Downie, Editor of the Fairground Mercury and Chairman of the Fairground Association of Great Britain

John Thurston, President of the Showman's Guild of Great Britain

John Exton, Vice President of The Circus Friends Association of Great Britain and Council Member responsible for liaison and support with the National Fairground and Circus Archive

Dr. Stephen Walker, Lecturer, School of Architecture, University of Manchester

Angela Haighton, Head of Special Collections, Archives, and Heritage

Advisory Emiritus: Anthony D. Harris, Former President of the Showmen's Guild of Great Britain

Professor Dawn Hadley, Professor of Medieval Archaeology, University of York

Steven McIndoe, Faculty Librarian for Arts and Humanities

Special Collections and Archives Advisory Committee 

Ellie Reynolds, Associate Director of Library Business Services (Chair)

Angela Haighton, Head of Special Collections, Archives and Heritage

Matthew Zawadzki, Records Manager and Archivist, University Secretary's Office

Professor Nikki Dibben, Faculty Director of Research and Innovation, Arts & Humanities

Dr Simon Stevens, International History, Department of History

Professor Stephen Laurence, Department of Philosophy