Department of Civil and Structural Engineering, Faculty of Engineering

Civil engineers help to create and protect the world we live in. Driven by teaching and research excellence, we inspire and empower our students to engineer a sustainable future.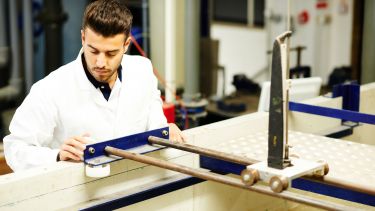 Course description
This course offers a broad-based knowledge in civil engineering covering geotechnical, structural and water engineering, placing an equal emphasis on both analysis and design. You will dissect these three areas and their inherent interconnections, giving you the skills to become an effective civil engineer.
Our department is research-led, meaning you'll be taught about the latest ideas and concepts within the field, while the advanced research project provides you with an opportunity to explore a current issue in civil engineering in much greater detail.
You will be equipped to work on strategies to remedy problems such as making our construction practices more sustainable and efficient, ensuring a safe and clean water supply for future generations, or tackling coastal flooding and groundwater pollution.
Accreditation
This degree is accredited as meeting the requirements for Further Learning for a Chartered Engineer (CEng) for candidates who have already acquired a partial CEng accredited undergraduate first degree. See the Joint Board of Moderators website for more details.
Modules
Core modules
Examples of core modules:
Structural Analysis
Structural Design
Geotechnical Design
Constitutive Modelling of Geotechnical Materials
Groundwater Engineering
Engineering Hydraulics or Engineering Hydrology
Civil Engineering Research Proposal
Advanced Engineering Research Study
Optional modules
Examples of optional modules:
Innovations in Structural Concrete
Earthquake Engineering and Risk Management
Advanced Concrete Design
Blast and Impact Effects on Structures
Design of Earthquake Resistant Structures
Sustainable Drainage and Green Infrastructure
Management of Soil and Groundwater Pollution
Computational Methods in Water Engineering
Design of Water Distribution and Sewer Networks
Coastal Engineering
Flood Risk Management
Sustainable Water Resources Systems
Teaching
Lectures by academic staff
Design tutorials
Design projects
Computational tutorials
Lab work
Industrial seminars
Advanced engineering research study (dissertation)
Some modules engage our industrial partners, laboratory work and site visits.
September–June: Taught modules and preparation for your dissertation.
June–August: Complete your dissertation. Your Advanced Engineering Research Study gives you the opportunity to work with an academic on a piece of research in a subdiscipline. We'll give you training in research skills.
Duration
1 year full-time
Entry requirements
Minimum 2:1 honours degree (BEng, MEng, BSc) in civil or structural engineering or other appropriate engineering or science subject.
We'll consider your application if you have appropriate professional qualifications and work experience, but you'll need a strong background in the areas covered on the course.
English language requirements
Overall IELTS grade of 6.5 with a minimum of 6.0 in each component, or equivalent.
You can apply for postgraduate study using our Postgraduate Online Application Form. It's a quick and easy process.
The course information set out here may change before you begin, particularly if you are applying significantly in advance of the start date.