School of Clinical Dentistry, Faculty of Medicine, Dentistry and Health

Dental professionals from all over the world come to Sheffield for postgraduate courses that enhance their careers.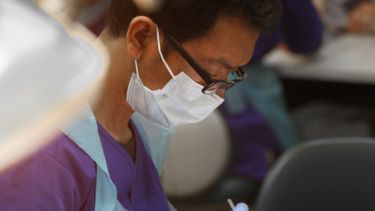 Course description
The DClinDent is suited to all dentists that wish to pursue specialist training in one of the restorative monospecialties and wish to prepare for the specialty membership examinations in endodontics, periodontology and prosthodontics of The Faculty of Dental Surgery of The Royal College of Surgeons of Edinburgh (RCSEd).
Candidates will have the opportunity to acquire knowledge and critical awareness of the issues that determine successful outcomes, informed by the forefront of knowledge in restorative dentistry; in accordance with the requirements of the UK's GDC specialist curricula. We will foster your ability for decision-making in complex and unpredictable situations, resulting in sound judgements and allowing you to plan and implement tasks at a professional level. You will learn how to communicate clearly and professionally to specialist and non-specialist audiences.
Distinct and carefully mapped opportunities to work and interact with colleagues in the other two restorative disciplines and other hospital trainees will give doctorate students the opportunity to develop their skills in a multi-disciplinary environment.
Final year students (Year 3) can choose to sit a conjoint examination where successful candidates will be awarded the degree of DClinDent and specialty membership (RCSEd) in endodontics.
What to include with your application
Modules
Core modules
Year 1
Principles of Periodontal Treatment
Principles of Endodontic Treatment
Principles of Conservative Dentistry
Management of the Partially Dentate Patient I
Research Project: Literature Review
Clinical Practice Programme: New Patient I
Year 2
Research Methods in Clinical Dentistry
Principles of Clinical Management
Clinical Practice Programme: New Patient II
Research Project: Experimental Work Data Collection
Clinical Practice Programme: Treatment of Own Patients
Speciality Programme in Endodontics, Periodontics, or Prosthodontics
Year 3
Clinical Practice Programme: New Patient 3
Research Project: Completion and and Write Up
Clinical Practice Programme: Treatment of Own Patients
Speciality Programme in Endodontics, Periodontics, or Prosthodontics
Teaching
Lectures
Tutorials
Seminars
Demonstrations
Clinical skills laboratory sessions
Case-based discussion
Extensive practical clinical experience
Assessment
Competency-based continuous clinical assessments
Formal examinations
Oral presentations
Written assignments
Research project
Duration
3 years full-time
The course is well organised, all sessions are interactive and very informative. I love lab sessions where I can improve my clinical skills by practising on extracted teeth and a model jaw. The supervisors are very helpful and their feedback helps me increase my knowledge and improve my skills.
Entry requirements
You must have a university-accredited degree in dental surgery that enables the practice of dentistry and a minimum of two years' post-qualification experience in any sphere of restorative dentistry, including general dental practice.
You must also meet our health and Disclosure and Barring Service requirements for clinical courses.
English language requirements
Overall IELTS grade of 7.0 with a minimum of 6.0 in each component, or equivalent.
You can apply for postgraduate study using our Postgraduate Online Application Form. It's a quick and easy process.
The course information set out here may change before you begin, particularly if you are applying significantly in advance of the start date.