Department of Physics and Astronomy, Faculty of Science

Particle physics has been at the centre of some of the 21st century's biggest scientific discoveries. You'll study in a department that has worked on the discovery of the Higgs boson and the detection of gravitational waves. Our researchers are involved in searches for dark matter and ground-breaking neutrino experiments.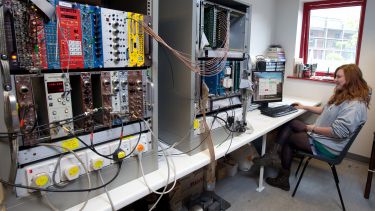 Course description
This course is designed to teach you the concepts that help us understand the universe, and give you the practical skills to run experiments that put complex theories to the test. It's a research-based degree, so you will spend around half your time on your own research project, working alongside experts here in Sheffield or at another lab where our scientists work, such as CERN.
The course covers the complex theories and experimental techniques that particle physicists use to explain nature and the universe. It will develop your understanding of the Standard Model by going into even greater depth on topics you might have covered in your undergraduate degree, such as quantum mechanics, electrodynamics and dark matter. You'll learn about the methods particle physicists use to study the universe, the experiments that led to the discoveries of neutrons, positrons and neutrinos, and the experimental evidence for quarks and gluons.
The advanced topics covered and the extensive research training make this degree programme great preparation for a PhD.
Physics graduates develop numerical, problem-solving and data analysis skills that are useful in many careers, such as computer programming, software engineering, data science or technology research and development.
The researchers who teach on this course are members of major international physics collaborations, from CERN, where the Higgs boson discovery was made, to LIGO, which was behind the discovery of gravitational waves.
Modules
Core modules
Advanced Electrodynamics
Dark Matter and the Universe
Further Quantum Mechanics
The Development of Particle Physics
Physics Research Skills
Research Project in Physics
Optional modules
Indicative optional modules include:
Advanced Particle Physics
Advanced Quantum Mechanics
An Introduction to General Relativity
Particle Astrophysics
Physics in an Enterprise Culture
Semiconductor Physics and Technology
Statistical Physics
Teaching
You will be taught through a series of lectures, seminars, tutorials and your research project.
Assessment
You'll be assessed by examinations, coursework, essays and other written work, presentations and a dissertation and viva.
Duration
1 year full-time
Entry requirements
A first-class undergraduate degree in physics or a related subject.
English language requirements
Overall IELTS grade of 6.5 with a minimum of 6.0 in each component, or equivalent.
You can apply for postgraduate study using our Postgraduate Online Application Form. It's a quick and easy process.
The course information set out here may change before you begin, particularly if you are applying significantly in advance of the start date.