Plant and Microbial Biology
Department of Animal and Plant Sciences, Faculty of Science

If you have a strong interest in biology, and a passion for creating and refining our knowledge about the living world, then a masters degree is excellent preparation for a career in research or industry.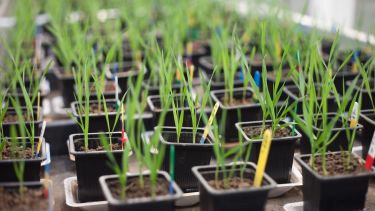 Course description
Plants and microbes are fundamental to food security, as well as being central to global ecosystems. At Sheffield we study them from every angle: from the molecular level up to whole organisms, in the context of ecosystems, industry and major global challenges.
Sheffield is home to the Plant Production and Protection (P3) global centre of excellence for translational plant science, allowing students on this course to examine the effects of past, present and future climates on plants and the wider environment.
Our links with external collaborators also make it possible for students with a particular interest in agricultural or horticultural research to complete their MRes project at Enza Zaden in the Netherlands or Rothamsted Research in the UK.
How to apply
Because of the research-intensive nature of this course, we ask you to include a short supporting statement with your application. This should explain how your interests and experience relate to the plant and microbial biology research we do in the Department of Animal and Plant Sciences, which particular supervisors or research groups you would be most interested in working with and if you'd like to be considered for an industrial placement at our P3 centre.
Modules
Core modules
Research Project
Literature Review 
Science Communication for Researchers
Scientific Skills and Project Management
The research project accounts for two-thirds of your final grade.
Teaching
Your training will take place through: 
Working in a research laboratory or on a field-based research project
Tutorials
Discussion groups
Attendance at seminars
Statistics and other workshops
Assessment
Assessment includes, but is not limited to:
Project report
Literature review
Critiques
Short reports and essays
Oral presentations including a viva
Duration
1 year full-time
Doing my own research project is a fascinating experience. I feel like I have developed massively during my course by working in the lab every day. I love the whole procedure of making transgenic plants, growing them and then analysing their phenotype using different methods like fluorescence microscopy.
MRes Plant and Microbial Biology
Entry requirements
At least a 2:1 honours degree or equivalent in biology or a closely related quantitative subject. In addition you should be able to demonstrate evidence of aptitude and enthusiasm for research (eg an undergraduate research project).
English language requirements
Overall IELTS grade of 6.5 with a minimum of 6.0 in each component, or equivalent.
Because of the research-intensive nature of this course, we ask you to include a short supporting statement with your application. Please see the course description above for more details.
The course information set out here may change before you begin, particularly if you are applying significantly in advance of the start date.