Postgraduate Diploma in Education
School of Education, Faculty of Social Sciences

Join education professionals from all over the world for a postgraduate course that will advance your career.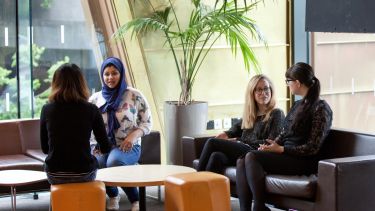 Course description
Our graduates make great teachers. It's that simple. The Initial Teacher Education (ITE) course helps you develop an understanding of research, policies and practice relating to education in general and secondary education in particular. You'll analyse and reflect on what you learn to connect research with the classroom.
We teach an approach to your work that will stay with you throughout your career. Our graduates are dedicated to lifelong learning, developing their professional practice, and using classroom-based research. You'll learn everything the qualified teacher needs to know about planning, teaching, learning, assessing, policies and processes.
Routes offered
We offer a provider-led route plus School Direct with a choice of five different clusters of schools.
The routes are all quite similar, but the main differences for the School Direct routes are:
You'll have your two school placements in the schools within the cluster that you are attached to, rather than in any school across the partnership.

The schools in your cluster will have a greater input into the PGDE programme throughout the year.

There will be a strong possibility of securing employment within the cluster of schools that you are attached to, subject to availability and suitability.
Subjects covered
English

Geography

History

Mathematics

Languages

Science with Biology, Chemistry or Physics

Physics with Maths
Age range
Secondary (11–19).
Masters credits
As well as a PGDE qualification and Qualified Teacher Status, you'll gain 120 credits at masters level if you successfully complete the course. You can put these towards study for an MA Applied Professional Studies in Education.
Apply
You'll need to apply for this course through UCAS:
Teaching
You'll learn through seminars, group work, tutorials, individual consultations, practical activities. You'll spend 24 of the 36 weeks in schools.
Assessment
Continuous assessment
Duration
36 weeks full-time
Entry requirements
A good honours degree (minimum 2:2, or for maths, physics and physics with maths applicants minimum class 3 with at least a grade B in the relevant A Level) in one of our teaching subjects or with a strong element of a teaching subject (see course description).
You also need grade 4/C in English Language and Mathematics at GCSE, or the equivalent. You need to pass the professional skills tests before the start of the course.
If all or part of your qualifications are from outside the UK, you may be asked to formally recognise your qualifications through a NARIC check. You can compare overseas qualifications to the British degree standard on the gov.uk website.
Disclosure and Barring Service & Safeguarding Training
As this course leads to a professional qualification, student teachers are required to undertake a Disclosure and Barring Service (DBS) Enhanced Disclosure and Work Health Assessment. You'll also need to complete Safeguarding Training.
Fee for Disclosure and Barring Service & Safeguarding Training
See the School of Education's web pages for details about costs. The fee includes the cost of a learning journal, which is provided at the start of the course.
Fees and funding
You can find out about bursaries and funding on the Department for Education Get into Teaching pages.
You'll need to apply for this course through UCAS:
The course information set out here may change before you begin, particularly if you are applying significantly in advance of the start date.