Quantum Photonics and Nanomaterials
Department of Physics and Astronomy, Faculty of Science

Quantum information and nanotechnology promise to revolutionise the modern world. This course is designed to teach you the concepts behind the next generation of technology, and the lab skills that will help to make it a reality.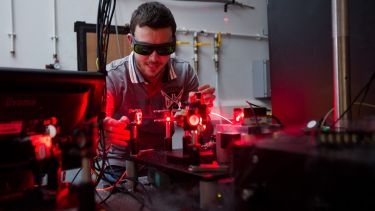 Course description
On this course, you'll be taught by researchers who are working on the theoretical and experimental basis of quantum information technologies, using the quantum nature of light to enable quantum information processing.
The course's particular focus is on developing novel semiconductor photonic nanostructures and 2D materials, such as graphene derived from bulk van der Waals materials, that could dramatically alter the optical and electronics industries. You'll study electromagnetism, optics, solid state physics and semiconductors at an advanced level, so that you understand the physical principles behind the latest technology.
This is a research-based degree, so you will also spend around half your time on your own research project, working alongside experts here in Sheffield.
The advanced topics covered and the extensive research training make this degree programme great preparation for a PhD. The specialist knowledge you'll gain can also be applied in the computing, electronics and telecommunications industries.
Modules
Core modules
Advanced Electrodynamics

Optical Properties of Solids

Semiconductor Physics and Technology

Solid State Physics

Physics Research Skills

Research Project in Physics
Optional modules
Advanced Quantum Mechanics

Biological Physics

Further Quantum Mechanics

Magnetic Resonance: Principles and Applications

Physics in an Enterprise Culture

Statistical Physics

The Physics of Soft Condensed Matter
Teaching
One year individual programme of research. Taught material is complemented by a 12-month research project in one of our world-leading research groups.
Your training will cover optical experiments and fabrication of devices in our state-of-the-art laboratories as well as numerical methods and more.
Assessment
You'll be assessed by examinations, coursework, essays and other written work, presentations and a dissertation and viva.
Duration
1 year full-time
My project was experimental as well as computational, so I learned a range of new skills. Aside from all the experimental work done in the lab, I got to learn how to simulate light confinement and mode propagation in various photonic crystals.
Entry requirements
A first-class undergraduate degree in physics or a related subject.
English language requirements
Overall IELTS grade of 6.5 with a minimum of 6.0 in each component, or equivalent.
You can apply for postgraduate study using our Postgraduate Online Application Form. It's a quick and easy process.
The course information set out here may change before you begin, particularly if you are applying significantly in advance of the start date.