Sustainable Architecture Studies
School of Architecture, Faculty of Social Sciences

Develop a portfolio of advanced skills and knowledge across several architectural disciplines, with a focus on sustainable architectural design.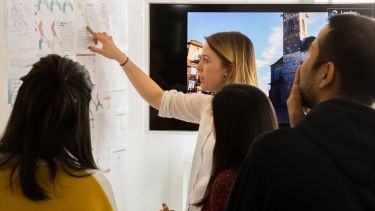 Course description
Combining social and technical aspects of sustainable architecture, this course has an interdisciplinary approach. It will inspire and enable you to pursue innovative research and design strategies for the built environment. You will be encouraged to develop a critical stance in relation to theories of sustainable architecture.
By the end of the course, you will possess the skills to produce complex design proposals that adopt a holistic approach to design and address the social, economic and environmental aspects of sustainable architecture.
We are one of the UK's top architecture schools. Our teaching staff are doing world-class research, helping to make the school a leader in our field across the UK and internationally. Through our teaching and research, we explore the social, spatial and environmental implications of architecture. As a Sheffield student you will engage with real issues affecting the built environment.
What to include with your application
Modules
Core modules
Building Environmental Simulation and Analysis
Renewable Energy
Sustainable Design Project 1
Sustainable Design Project 2
Principles of Building Physics for Sustainable Design
Sustainable Design Thesis Project
Optional modules
Choose from a range of optional modules. These might include:
Advanced Simulation for Modelling Adaptive Architecture
Building Information Modelling, Management and Analysis
Materials for Low Impact Building
Environment and Technology in Design
Teaching
Your work in the design studio is supported through lectures, seminars, tutorials and practical computer work.
Assessment
Assessment is by course-based assignments and a dissertation.
Duration
1 year full-time
2 years part-time
Our built environment contributes a high percentage of carbon emissions and is one of the causes for global warming. I'm hoping to apply what I learn to influence people in the building industry to consider their impact on the environment.

Chun Yuen
MSc Sustainable Architecture Studies
Entry requirements
You'll need a 2:1 honours degree or an equivalent qualification related to design in the built environment. Related subjects include: architecture, landscape architecture, urban planning, chartered surveying and engineering, or another subject area where you can demonstrate a clear interest in sustainable architecture
You will also need to submit your design portfolio or a related piece of writing. For 2020 entry onwards, we will require a design portfolio – we won't able to accept a written piece.
If your degree isn't design-based but you have a lot of professional experience we'll consider your application.
English language requirements
Overall IELTS grade of 6.5 with a minimum of 6.0 in each component, or equivalent.
Fees and funding
You can apply to take part in the Postgraduate Advantage Scheme: 100-hour internships to enhance your CV and gain practical work experience during your degree. Students receive a bursary to cover expenses.
You can apply for postgraduate study using our Postgraduate Online Application Form. It's a quick and easy process.
The course information set out here may change before you begin, particularly if you are applying significantly in advance of the start date.