Traditional and World Music (Distance Learning)
Department of Music, Faculty of Arts and Humanities

World Music Studies encompasses the study of any and all musical activity in the world: Western as well as 'exotic', popular as well as classical, amateur as well as professional.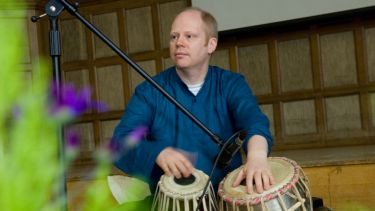 Course description
This distance learning course combines annual residential weeks in Sheffield with longer periods of internet-supported study which means students can be anywhere in the world.
Traditional and world musics and their associated cultures are studied through practical methods such as fieldwork and direct participation in music-making as well as library research and theoretical interpretation. You'll gain both a deeper knowledge of the music and a set of skills for discovering and communicating new knowledge about music.
The courses are intended for musicians, educators and enthusiasts who want to know more about traditional and world musics and about ways of studying and understanding music in its social and cultural context.
World Music Studies is interpreted quite literally as encompassing, in principle, the study of any and all musical activity in the world: Western as well as 'exotic', popular as well as classical, amateur as well as professional.
Teaching
The course is informed by new technologies and methods of working. There are seminars, laboratory-based demonstrations and individual tutorials.
Distance learning means that most of the teaching is done through online course materials and readings supported by email, phone or Skype tutorials. You will need to attend the University for one residential each year.
Assessment
Assessment takes a variety of forms such as problem-based assignments and the completion of a creative portfolio.
Duration
2 years part-time by distance learning
Since completing my MA I have had the opportunity to make great strides professionally. I have presented my dissertation at conferences in Athens, Madrid, Lisbon and Florence, and assisted other international school teachers in setting up alternative percussion ensembles in their schools. The course helped me define a new direction in my teaching career and I am so thankful for that opportunity.

Joy Edenfield
MA World Music Studies
Entry requirements
2:1 undergraduate degree. If your undergraduate degree is not in music, you'll need to provide evidence of substantial engagement with music.
We also recognise the value of experience, and may accept applications from people who have been in practice, or who bring other experience to their studies.
English language requirements
Overall IELTS grade of 6.5 with a minimum of 5.5 in each component, or equivalent.
You can apply for postgraduate study using our Postgraduate Online Application Form. It's a quick and easy process.
The course information set out here may change before you begin, particularly if you are applying significantly in advance of the start date.