Department of Civil and Structural Engineering, Faculty of Engineering

Civil engineers help to create and protect the world we live in. Driven by teaching and research excellence, we inspire and empower our students to engineer a sustainable future.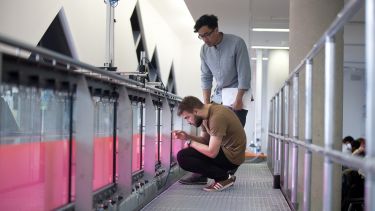 Course description
Protecting and improving our water resources is one of the most significant engineering challenges we face today. This course will give you the fundamental knowledge and experience for a career in water engineering, including skills in environmental enhancement and protection.
Our large multidisciplinary water research group drives our research-led teaching and module content. You'll cover essential engineering principles like fluid mechanics, chemistry, hydrology, applied hydrogeology, hydraulic engineering, coastal engineering and computational methods, and have the opportunity to attend lectures with leading industry experts and use commercial software and modelling tools.
We collaborate with industry and other prestigious universities all over the world on challenging problems in water supply and environmental protection. The course will prepare you for work in areas such as the water industry, sustainable urban development, flood and environmental management.
Accreditation
This degree is accredited as meeting the requirements for Further Learning for a Chartered Engineer (CEng) for candidates who have already acquired a partial CEng accredited undergraduate first degree. See the Joint Board of Moderators website for more details.
Modules
Core modules
Examples of core modules:
Engineering Hydrology
Engineering Hydraulics
Groundwater Engineering
Surface Water Quality Processes
Computational Methods in Water Engineering
Civil Engineering Research Proposal
Advanced Engineering Research Study
Optional modules
Examples of optional modules:
Management of Soil and Groundwater Pollution
Design of Water Distribution and Sewer Networks
Coastal Engineering
Sustainable Drainage and Green Infrastructure
Computational Fluid Dynamics
Flood Risk Management
Sustainable Water Resources Systems
Teaching
Lectures by academic staff
Design tutorials
Design projects
Computational tutorials
Lab work
Industrial seminars
Advanced engineering research study (dissertation)
Some modules engage our industrial partners, laboratory work and site visits.
September–June: Taught modules and preparation for your dissertation.
June–August: Complete your dissertation. Your Advanced Engineering Research Study gives you the opportunity to work with an academic on a piece of research in a subdiscipline. We'll give you training in research skills.
Duration
1 year full-time
Entry requirements
Minimum 2:1 honours degree in a relevant subject.
We'll consider your application if you have appropriate professional qualifications and work experience, but you'll need a strong background in the areas covered on the course.
English language requirements
Overall IELTS grade of 6.5 with a minimum of 6.0 in each component, or equivalent.
You can apply for postgraduate study using our Postgraduate Online Application Form. It's a quick and easy process.
The course information set out here may change before you begin, particularly if you are applying significantly in advance of the start date.