MSc
PG Certificate
PG Diploma
2021 start
September
Acquired Communication Disorders
Division of Human Communication Sciences, Health Sciences School, Faculty of Medicine, Dentistry and Health

This MSc develops your knowledge of the most up-to-date approaches and theoretical and clinical issues in the field of acquired communication disorders.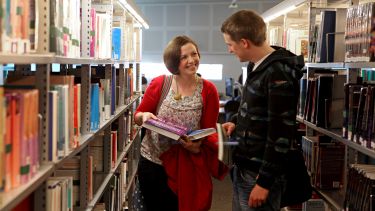 Course description
This course is for speech and language therapists/pathologists, linguists, psychologists or others with a relevant background who have an interest in acquired communication disorders such as aphasia, dysarthria and the communication difficulties secondary to dementia or traumatic brain injury.
The course will develop your knowledge and skills of evidence-based practice so that you can effectively support people with acquired speech, language and communication difficulties.
You'll have the opportunity to take part in a range of clinical observations with speech and language therapy clients (adults and children) throughout the course.
The MSc will provide you with an up-to-date understanding of the main theoretical and clinical issues and approaches in this field and the implications of these findings for clinical intervention.
What will you learn?
On the course you'll develop:
an understanding of current research and recent clinical developments within acquired speech and language disorders, including aphasia, dysarthria, and the communication difficulties associated with dementia and traumatic brain injury

an understanding of both impairment-focused analytic approaches to these disorders, including neuropsychological and psycholinguistic perspectives, and functional approaches, including communicative, psychosocial and interactional perspectives

knowledge of current intervention methods in the treatment of acquired communication disorders that draw on both impairment-focused and functionally-focused approaches

competency in quantitative and qualitative research design and methods relevant to analysing and carrying out intervention for these disorders
Modules
Core modules
PGCert
Acquired Language Disorders
Acquired Speech Disorders
Methods in Clinical Linguistics
Developing an Evidence Base for Practice
PGDip
Same four modules as for the PGCert
Research Methods A
Research Methods B
MSc
Same four modules as for the PGCert
Research Methods A
Research Methods B
Dissertation/Evaluation of Clinical Practice
Optional modules
Students on the PGDip and MSc also take optional modules, from a range offered both within the department and across other departments in the University.
The content of our courses is reviewed annually to make sure it's up-to-date and relevant. Individual modules are occasionally updated or withdrawn. This is in response to discoveries through our world-leading research; funding changes; professional accreditation requirements; student or employer feedback; outcomes of reviews; and variations in staff or student numbers. In the event of any change we'll consult and inform students in good time and take reasonable steps to minimise disruption. We are no longer offering unrestricted module choice. If your course included unrestricted modules, your department will provide a list of modules from their own and other subject areas that you can choose from.
Teaching
Online course material.

Four study blocks of two or three days are held throughout the year. Attendance at study blocks is normally compulsory. During study blocks, students take part in lectures, tutorials and practical workshops. However, students who are not based in the UK, or who have special circumstances, might not need to attend study blocks. 
Assessment
All modules are assessed by written work.
Duration
MSc: 1 year full-time or 2/3 years part-time by distance learning
Postgraduate Diploma: 1 year full-time or 2 years part-time by distance learning
Postgraduate Certificate: 1 year part-time by distance learning
Your career
Graduates continue to develop their career both within the NHS and the private sector, as well as going on to specialise as speech and language therapists. Some graduates have alternatively gone onto further PhD training in clinical research.
You can apply for postgraduate study using our Postgraduate Online Application Form. It's a quick and easy process.
Any supervisors and research areas listed are indicative and may change before the start of the course.
Recognition of professional qualifications: from 1 January 2021, in order to have any UK professional qualifications recognised for work in an EU country across a number of regulated and other professions you need to apply to the host country for recognition. Read information from the UK government and the EU Regulated Professions Database.