2021 start
Advanced Electrical Machines, Power Electronics and Drives
Department of Electronic and Electrical Engineering, Faculty of Engineering

Explore the key technologies that power electrical machines and drives and discover how these cutting-edge technologies can be integrated into advanced systems.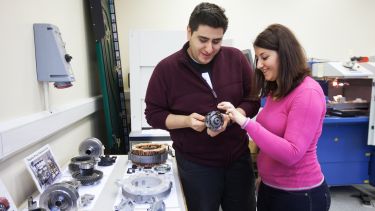 Course description
The deployment of power electronic converters and electrical machines continues to grow at a rapid rate in sectors such as hybrid and all-electric vehicles, aerospace, renewables and advanced industrial automation. In many of these applications, high performance components are combined into sophisticated motion control and energy management systems.
This course will give you in-depth knowledge of the key component technologies and their integration into advanced systems.
Modules
Opportunities exist for dissertation studies to be carried out in collaboration with other university research centres or with industrial organisations. Examples of previous projects include:
Hand gesture-based computer user interface using Kinect
Wireless signal propagation in jet engines
Optically controlled smart antenna
MIMO antenna on mobile phone
Wi-Fi mesh network for LTE/LTE-advanced small cell backhaul
Core modules:
MSc Investigative Research Project

This module is a research-led project supervised by a member of staff. In order to ensure the best use of the summer study period, project preparation and planning is carried out in semester 2, which is separately assessed. Project activities take place during the summer semester using the Departmental Research facilities and you are exposed to the latest methods, instrumentation and ideas in the area of their project. There is scope for you to demonstrate your critical skills and engineering knowledge to a high level.

60 credits

AC Machines

This unit will introduce students to AC, Synchronous, Induction, and Synchronous/Switched Reluctance machines. It will consider operation, performance, characteristics and modelling.

15 credits

Advanced Control of Electric Drives

This module explores advanced modelling and modern control strategies of electric drive systems with a focus on induction (IM) and permanent magnet synchronous machines (PMSM).

15 credits

Energy Storage Management

This module looks at the storage and management of energy in electrical systems. It will consider:

(a) Fuel cells: the basic principles of hydrogen fuel cells, reaction
rate, cell interconnection, the bipolar plate, fuel cell types, ancillary components of a fuel cell system, advantages and disadvantages of fuel cell technologies.

(b) Batteries and supercapacitors: battery chemistries, energy/power densities of different batteries. Differences between electrochemical energy storage and electrical energy storage in supercapacitors, performance characteristics, charging, modelling, thermal effects, and measurement.

(c) Mechanical: Principles of mechanical energy storage, flywheels / compressed air. Mechanics of energy storage, precession torques and counter-rotating systems for vehicles. Energy management will include the ancillaries required to connect energy storage to the grid, including dc-dc and dc-ac inverters in addition to battery modelling approaches commonly used for state of charge and state of health monitoring.

15 credits

Motion Control and Servo Drives

This module investigates, in detail, the performance and operational characteristic of both modern a.c. and d.c. variable speed drives and actuation systems, as well as their applications in electric/hybrid vehicle traction.

15 credits

Permanent Magnet Machines and Actuators

This module looks at the topologies for, design of, and characteristics of permanent magnet electrical machines. It will look at these machines from the types of magnets employed, electromagnetic torque, thermal behaviour and modelling through the winding of such machines to the design of a range of machines; for example brushless AC/DC, fractional slot, switched/transverse flux.

15 credits

Power Electronics Converters

This module introduces power conversion principles, defines the terminology and analyses operational principles, modulation methods and control of selected power converters topologies for industrial applications.

15 credits
Optional modules - two from:
Power Semiconductor Devices

This module will look at power semiconductor devices: physics, technology, characteristics, packaging and application.

15 credits

Advanced Signal Processing

This module focuses on introducing advanced signal processing methods and technologies and their applications. Topics include multi-rate filtering and filter banks; signal transforms; random signals; adaptive filtering and array signal processing.

15 credits

Electronic Communication Technologies

This module aims to provide you with a range of skills that are required when designing circuits and systems at high frequencies. Topics covered will include: electromagnetic interference mechanisms, circuit design techniques, filtering, screening, transmission lines, S-parameters, Smith charts, equivalent circuits for passive and active devices, radio frequency (RF) amplifier design, noise performance and nonlinearities of RF circuits and systems.

15 credits

Data Coding Techniques for Communication and Storage

Processing techniques to enable transmission and storage of data, in a reliable and secure fashion, are a key element in nearly all modern communication systems. This module deals with data-coding techniques required for reliable and secure data transmission and storage. It covers various aspects of digital communication combining elementary communication theory with practical solutions to problems encountered.

15 credits

Antennas, Propagation and Satellite Systems

Review and application of electromagnetic theory for antenna analysis. Radiation pattern, gain, input impedance. Half wave, full wave dipole antennas, monopole antennas. Image theory. Antenna arrays. Polarization: linear, elliptical, axial ratio. Aperture theory: Fourier analysis, Huygens-Kirchhoff formula, rectangular and circular aperture, effective aperture. Microstrip antennas. Propagation in a plasma: critical frequency, refractive index. Ionospheric/tropospheric propagation of HF/VHF radio waves: MUF, ionosonde. Satellite communications systems. Earth stations - types and performance. Satellite transponders - amplifiers, redundancy, transmitters, frequency translation. Multiple access systems. 

15 credits

System Design

This module is concerned with the management of complexity in system design. To learn the basics of structured approach to design of complex systems, you will undertake a design project that requires the application of state of the art design tools that help to achieve appropriate error free design structures.

15 credits
The content of our courses is reviewed annually to make sure it's up-to-date and relevant. Individual modules are occasionally updated or withdrawn. This is in response to discoveries through our world-leading research; funding changes; professional accreditation requirements; student or employer feedback; outcomes of reviews; and variations in staff or student numbers. In the event of any change we'll consult and inform students in good time and take reasonable steps to minimise disruption. We are no longer offering unrestricted module choice. If your course included unrestricted modules, your department will provide a list of modules from their own and other subject areas that you can choose from.
Teaching
You'll learn through research-led teaching, lectures, laboratories, seminars, tutorials and coursework exercises.
Assessment
Assessment is by examinations, coursework and a project dissertation with poster presentation.
Duration
1 year full-time
Entry requirements
A 2:1 honours degree in electronic and electrical engineering, physics, maths and other branches of engineering involving significant mathematical competence and relevant technical modules.
We will need evidence of relevant work/practical experience or strong performance in a major individual project during your degree.
Overall IELTS score of 6.5 with a minimum of 6.0 in each component, or equivalent.
You can apply for postgraduate study using our Postgraduate Online Application Form. It's a quick and easy process.
Any supervisors and research areas listed are indicative and may change before the start of the course.
Recognition of professional qualifications: from 1 January 2021, in order to have any UK professional qualifications recognised for work in an EU country across a number of regulated and other professions you need to apply to the host country for recognition. Read information from the UK government and the EU Regulated Professions Database.