Department of Chemistry, Faculty of Science

Securing a place on a chemistry PhD at a top institution, or joining a research and development lab in industry, is a competitive process. This masters course is designed to help you stand out. You'll gain research experience at postgraduate level and learn advanced lab techniques in our state-of-the-art facilities.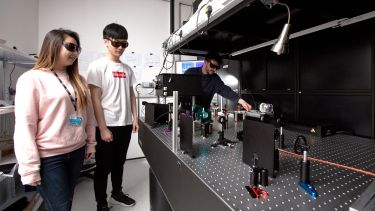 Course description
For most of this one-year course, you will be working full-time as a chemistry researcher on your own research project. You'll get to choose a topic that you're interested in, be assigned an academic supervisor who specialises in that area and work in their laboratory as part of a team of scientists. Some students' projects even lead to publications in academic journals.
We'll teach you advanced lab techniques and train you to use state-of-the-art chemistry equipment. Two lecture modules will help you further develop your chemistry expertise. Each one allows you to pick the topics that most interest you from a range of organic, inorganic and physical chemistry subjects. 
Your career
You will be an active, contributing member of your project supervisor's research group, which makes this course great preparation for a PhD, or a research and development role in industry. Employers and PhD supervisors really value the experience students get from completing an extended project on an MSc(Res) degree.
Modules
Facilities
We have state-of-the-art research laboratories and we're home to several multimillion pound research facilities. These facilities include the Lord Porter Laser Laboratory, which has three laser stations that can be used in studies ranging from energy transport in molecules and materials to artificial photosynthesis, and our Soft Matter Analytical Laboratory, where scientists can study samples that are 100 times smaller than a human hair.
Teaching
Lectures

Laboratory training

Independent research project
Assessment
Examinations

Laboratory reports

Dissertation (20,000 words) and viva
Duration
1 year full-time
My current research is within the world of artificial photosynthesis, trying to produce molecules that would hopefully end our reliance on harmful fossil fuels. Other than that I have gained a copious amount of transferable skills that would be perfect within the chemical industry or professional environment.
Entry requirements
BSc (Hons) 2:1 or equivalent in chemistry or a chemistry-related subject.
English language requirements
Overall IELTS score of 6.5 with a minimum of 6.0 in each component, or equivalent.
You can apply for postgraduate study using our Postgraduate Online Application Form. It's a quick and easy process.
The course information set out here may change before you begin, particularly if you are applying significantly in advance of the start date.