Cognitive and Computational Neuroscience
Department of Psychology, Faculty of Science

Train in computer simulation and mathematical modelling techniques, as well as experimental cognitive psychology and brain imaging, and develop an understanding of the biological foundations of natural and artificial intelligence.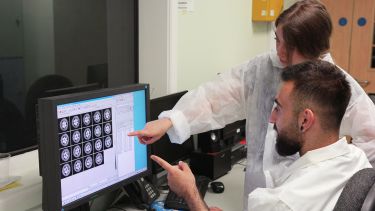 Course description
This 12-month course will give you in-depth training in core aspects of contemporary neuroscience, from sensation and sensory processing, to understanding complex brain functions and artificial intelligence. You'll be prepared for an exciting career in research, healthcare, industry, or further study to PhD level.
Throughout your course, our neuroscientists will introduce you to the core problems in computational neuroscience, adaptive behaviour, neuroethology, evolutionary biology, connectionism and robotics. We'll teach you the core techniques in experimental cognitive psychology, including computational modelling, biomimetic robots and cutting-edge neuroimaging, and give you opportunities to apply these techniques.
Over three months you'll work on your research project in Cognitive Neuroscience with one of our world-leading experts in the Department of Psychology. Your research topic could range from theoretical to basic neuroscience. You may have the opportunity to collect and analyse real-life cognitive brain science data, using state-of-the-art equipment, before presenting your findings at our summer student-led conference. This project gives you the opportunity to put your new techniques in experimental neuroscience into practice, while exploring ideas at the cutting-edge of cognitive neuroscience. It's common for MSc research projects to form the basis of publications in peer-reviewed journals.
Other courses in cognitive neuroscience
We offer MSc courses that cover the full breadth of cognitive neuroscience, from the biological basis to imaging and simulation, allowing you to discover the area that you're most interested in:
MSc Cognitive Neuroscience and Human Neuroimaging
Your career
With the valuable skills and knowledge that you'll develop throughout your research training, including computational modelling, imaging, and analysis expertise, you'll be well equipped for careers including:
roles within deep learning, machine learning or artificial intelligence

analysis and visualisation of data within hospitals, other healthcare providers or the pharmaceutical industry

pursuing a career in research, understanding major diseases like stroke, Alzheimer's, Parkinsons and epilepsy within academia or governmental organisations.
If you choose to continue your research training, these courses are great preparation for a PhD in areas including neuroscience, artificial intelligence, and brain interfaces, or to begin clinical training.
Intercalation
We accept medical students who wish to intercalate their studies. Find out more on the Medical School's website.
Modules
Teaching
You'll learn through hands-on laboratory sessions, problem-solving classes, lectures, seminars and individual projects.
Assessment
You'll be assessed through formal examinations and coursework which may include essays, poster presentations and a dissertation.
Duration
1 year full-time
The course covers an extensive variety of disciplines encompassing cognitive neuroscience, neurobiology, experimental psychology, and computer science. Subsequently, the course gave me an invaluable experience studying the different theoretical approaches and methodologies used to understand current research across traditional discipline boundaries; ranging from single-neuron neurophysiological recordings, to computational modelling of neural functions.

Josh Bolam
MSc Cognitive and Computational Neuroscience
Entry requirements
A 2:1 honours degree or equivalent qualification in either a life science (including psychology) or mathematical/physical science (including engineering). 
We accept medical students who wish to intercalate their studies.
English language requirements
Overall IELTS score of 6.5 with 6.0 in each component.
You can apply for postgraduate study using our Postgraduate Online Application Form. It's a quick and easy process.
The content of our courses is reviewed annually to make sure it's up-to-date and relevant. Individual modules are occasionally updated or withdrawn. This is in response to discoveries through our world-leading research; funding changes; professional accreditation requirements; student or employer feedback; outcomes of reviews; and variations in staff or student numbers. In the event of any change we'll consult and inform students in good time and take reasonable steps to minimise disruption. We are no longer offering unrestricted module choice. If your course included unrestricted modules, your department will provide a list of modules from their own and other subject areas that you can choose from. Any supervisors and research areas listed are indicative and may change before the start of the course.