2021 start
Infrastructure and Urban Systems Engineering
Department of Civil and Structural Engineering, Faculty of Engineering

Our lives are becoming increasingly urban, which raises significant challenges for engineers to create healthy, sustainable and secure infrastructure that minimises our impact on the environment. We'll give you the tools and techniques to analyse and design urban systems and civil infrastructure in order to build better, more resilient and sustainable cities.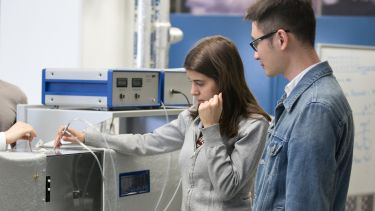 Course description
This course will teach you how to implement suitable technologies and management systems that work to create a healthy urban environment. We'll train you to understand and analyse urban systems using the latest techniques, such as environmental and sustainability assessment, inverse problem solving, sensor integration, asset management and advanced numerical modelling. Your studies conclude with a design project focusing on a complex engineering problem in an urban environment.
This course teaches you how to design with the least possible environmental impact. We offer a fresh perspective on solving the toughest global engineering problems, such as the causes and effects of climate change. Graduates of this course stand out from their peers, in terms of technical aptitude and their ability to handle complex infrastructure-related challenges in the international urban environment.
You'll be taught from civil infrastructure industry leaders and researchers working at the forefront of their fields, learning through a mixture of lectures, tutorials, seminars, problem-solving classes, project classes, and classroom discussions.
Accreditation
The programmes are accredited by ICE, IStructE, CIHT and IHE as meeting the requirements for Further Learning for a Chartered Engineer under the provisions of UK-SPEC for intakes 2020–2022 only for candidates that have already acquired a CEng partial accredited BEng(Hons) undergraduate first degree.

It should be noted that candidates completing the MSc who hold an underpinning accredited IEng degree or a non-accredited bachelor degree will need to apply for an academic assessment to determine whether they will meet the educational base for CEng registration.
Modules
Core modules:
Research and Professional Skills

This module fosters best practice in engineering-related research/professional skills and delivers a range of training activities to meet the needs of professional engineers dealing with research and technological development.

15 credits

Structural Health Monitoring and Asset Management

The field of Structural Health Monitoring (SHM) provides strategies for collecting and analysing structural data to detect (potential) damage. In this module, you are provided with methodologies for acquiring point/distributed data from structures. You are then introduced to direct and state-of-the-art inverse methods for detecting, localising, and quantifying damage using such data. Lastly, SHM is contextualised in the framework of infrastructure/asset management.

15 credits

Engineering within Planetary Capacity

It is projected that by 2050 the human population will be 10 billion, with over 75% concentrated in urban and megacity areas. It is essential that engineering solutions are developed to create and maintain an urban built environment that can meet rapidly changing societal needs, whilst being within the carrying capacity of the planet. This module will equip you with the skills to develop and analyse engineering solutions to ensure they operate within planetary boundaries.

15 credits

Thermodynamics for Buildings and Cities

The module covers the thermodynamic principles as they apply to buildings within cities. It considers the fundamental principles required to understand energy flows in the built environment. Practical examples related to heat networks, and building energy use will be covered to enable students to design appropriate solutions.

15 credits

Modelling of Urban Infrastructure Systems

This module introduces you to the range of modelling techniques used to analyse the urban metabolism and to assist the design of urban infrastructure. A variety of techniques will be covered to enable the spatial understanding of urban networks, the ability to quickly and efficiently test different scenarios, and to use available data to create useful information. Current state of the art technology for sensing the urban environment and informing models will also be studied.

15 credits

Urban Microclimate

With the risk of climate change and the growing urbanisation of cities it is essential that we design cities in such as way as to reduce the impact on the local climate. This module will give you an understanding of the fundamental processes which result in alterations to the local climate in cities followed by best practice design approaches to reduce the impact on the climate. This will cover consideration of heat, wind and pollution. You will develop your understanding through lectures, seminars, case study reviews and through design. Related topics such as soundscapes will also be discussed.

15 credits

Design of Water Distribution and Sewer Networks

This module will provide you with a high level of knowledge and understanding as to how aging water distribution and urban drainage systems operate in the UK. Teaching will focus on acquiring knowledge about current regulatory and design practices. You will also be required to use industry standard software to apply hydraulic and water quality/pollution concepts to evaluate and modify the performance of water distribution and sewer networks. You will be expected to demonstrate this knowledge and understanding via application in case studies - water distribution network and a sewer network.

15 credits

Sustainable Urban Design

This module applies knowledge and engineering skills in the remit of urban infrastructure to the design of an urban area. The module will require that a broad overview is taken of the urban metabolism to understand the resource and energy dynamics. This will provide a basis for the design of a specific infrastructure system (such as water, energy or transport) considering the engineering design, construction and long term maintenance including the incorporation of technology to maximise efficiencies. Consideration on the impact on city dwellers in relation to equity and health and wellbeing will be vital to the design.

15 credits

Advanced Engineering Research Study

This module represents a major element of the Masters programme, with the aim of enabling you to learn skills in scientific investigation and in running and presenting a project. You are required to submit a comprehensive (bound) report describing the individual work that you have done during the summer semester.

60 credits
The content of our courses is reviewed annually to make sure it's up-to-date and relevant. Individual modules are occasionally updated or withdrawn. This is in response to discoveries through our world-leading research; funding changes; professional accreditation requirements; student or employer feedback; outcomes of reviews; and variations in staff or student numbers. In the event of any change we'll consult and inform students in good time and take reasonable steps to minimise disruption. We are no longer offering unrestricted module choice. If your course included unrestricted modules, your department will provide a list of modules from their own and other subject areas that you can choose from.
Teaching
Lectures by academic staff
Design tutorials
Design projects
Computational tutorials
Advanced engineering research study (dissertation)
Some modules engage our industrial partners, laboratory work and site visits.
Duration
1 year full-time
Entry requirements
Minimum 2:1 honours degree (BEng, MEng, BSc) in Civil and Structural Engineering or other appropriate engineering or science subject.
We'll consider your application if you have appropriate professional qualifications and work experience, but you'll need a strong background in the areas covered on the course.
Overall IELTS score of 6.5 with a minimum of 6.0 in each component, or equivalent.
You can apply for postgraduate study using our Postgraduate Online Application Form. It's a quick and easy process.
Any supervisors and research areas listed are indicative and may change before the start of the course.
Recognition of professional qualifications: from 1 January 2021, in order to have any UK professional qualifications recognised for work in an EU country across a number of regulated and other professions you need to apply to the host country for recognition. Read information from the UK government and the EU Regulated Professions Database.