2021 start
Intercultural Communication and International Development
School of Languages and Cultures, Faculty of Arts and Humanities

Department of Geography, Faculty of Social Sciences

The world needs developers who can communicate across cultural boundaries and bring people together. You'll learn best practice for effective communication at work across a wide range of cultural groups, and develop your communication skills in more than one language.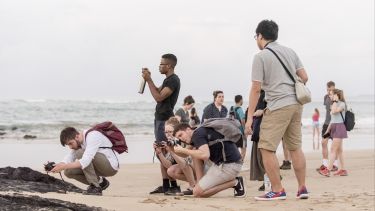 Course description
This interdisciplinary course produces international development practitioners with advanced intercultural communication skills.
You'll develop a critical understanding of the role culture and communication play in international and social development. You'll explore the theory, policy and practice and consider their combined practical application, which will help you to become a highly effective intercultural communicator in real-life international development situations.
The course is taught by the School of Languages and Cultures and the Department of Geography. A module on international project management integrates the two subjects and there are communication seminars designed for developers.
You'll develop essential skills in ethnographic research and form systematic approaches to understanding others' perspectives. This course will help you develop an intercultural lens on the world's most pressing problems and you can shape the course to suit your personal career needs and interests, by choosing between various language, development and other subject options.
The course includes a ten-day field class overseas that provides hands-on experience of research. Recent destinations have included the Galapagos, Tanzania and Nepal. The cost of the field trip class is included in the fees.
We are part of the Sheffield Institute for International Development (SIID) which unites expertise and input from a range of subjects spanning politics and public health to music and sociological studies, and experience with working with a range of NGOs, public organisations and companies. You'll learn invaluable research skills of participant observation which you can apply in your dissertation and future career.
Dissertation placement
There will be an extra cost for the dissertation placement (which is often in the global south) but it's great experience and value for money. All students take a dissertation placement, which will be arranged during the fist semester.
Our students are placed with some of the world's leading international agencies on the dissertation placement. Most of our placements are in the global south. We have some in the UK, and even a few in Sheffield, but unless you have overriding reasons (such as caring responsibilities) you should expect to do your placement outside the UK. 
Costs vary depending on the location of the placement – whether overseas or in the UK. You'll need to think about the cost of flights, accommodation, food and transport, which can add up to around £1,500 in addition to your tuition fees.
Modules
This course is highly flexible – through optional modules you'll have a variety of ways to develop your language skills and interests.
Explore core and optional modules
The content of our courses is reviewed annually to make sure it's up-to-date and relevant. Individual modules are occasionally updated or withdrawn. This is in response to discoveries through our world-leading research; funding changes; professional accreditation requirements; student or employer feedback; outcomes of reviews; and variations in staff or student numbers. In the event of any change we'll consult and inform students in good time and take reasonable steps to minimise disruption. We are no longer offering unrestricted module choice. If your course included unrestricted modules, your department will provide a list of modules from their own and other subject areas that you can choose from.
Teaching
Lectures, staff and student- led seminars, small-group work, one-on-one consultations with staff and workshops.
Assessment
You're assessed on coursework and a dissertation. The dissertation involves a work placement (often undertaken in the global south) with a development organisation.
Duration
1 year full-time
Your career
Our MA opens up a wide range of career paths in a multitude of industries. Our graduates work for non-governmental organisations such as Oxfam, the public sector, including the UN Habitat, and companies in the private sector.
Graduate roles include: intercultural trainer; adviser to non-governmental organisations; international partnerships officer; policy officer; project manager; consultant; and research officer.
Some of our graduates have also set up their own companies or go on to PhDs.
MA Intercultural Communication and International Development graduate Shaza went to Sierra Leone on her research placement. After graduating, she got a job working for the Catholic Mission in Sierra Leone. She now writes and manages grants for the University of Makeni and Caritas for community development projects.
Student profile
The scholarship I received has allowed me to pursue my ambitions of undertaking an MA in Intercultural Communication and International Development. Coming from a low-income background, without it I would not have been able to fund my masters for many years. It has taken much of the financial stress out of studying and, as I am not having to work too many hours to fund my living costs, I am able to dedicate some hours towards volunteering with a local refugee centre.
It also allows me to engage fully with the course and take advantage of the opportunity to go on the field trip to either the Galapagos, Tanzania or Nepal, and to gain professional experience with an NGO in Mozambique!
MA Intercultural Communication and International Development
You can apply for postgraduate study using our Postgraduate Online Application Form. It's a quick and easy process.
Any supervisors and research areas listed are indicative and may change before the start of the course.
Recognition of professional qualifications: from 1 January 2021, in order to have any UK professional qualifications recognised for work in an EU country across a number of regulated and other professions you need to apply to the host country for recognition. Read information from the UK government and the EU Regulated Professions Database.