2021 start
Molecular and Cellular Basis of Human Disease
Department of Biomedical Science, Faculty of Science

This unique research-led masters course provides training to future scientists in the production and use of animal models for basic research into disease mechanisms and for therapeutic studies.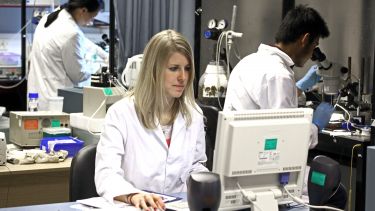 Course description
Whole genome sequencing has opened up a new era of studies into the molecular and cellular basis of human disease.
The new molecular genetic and cellular approaches to understand human disease and disease processes in model systems are well established in our department, with some of the world's foremost research in these areas being conducted in Sheffield. 
As the research base broadens and industry begins to adopt new technologies, the demand for this type of specialist training is strong across the healthcare industry and academia. 
Intercalation
We accept medical students who wish to intercalate their studies. Find out more on the Medical School's website.
Modules
Explore core and optional modules
Core modules
Laboratory Research Project

Literature Review

Critical Analysis of Current Science

Ethics and Public Awareness of Science
Optional modules
Examples include:
Practical Cell Biology
Practical Developmental Genetics
Modelling Human Disease and Dysfunction
Cancer Biology
Epithelial Physiology in Health and Disease
The content of our courses is reviewed annually to make sure it's up-to-date and relevant. Individual modules are occasionally updated or withdrawn. This is in response to discoveries through our world-leading research; funding changes; professional accreditation requirements; student or employer feedback; outcomes of reviews; and variations in staff or student numbers. In the event of any change we'll consult and inform students in good time and take reasonable steps to minimise disruption. We are no longer offering unrestricted module choice. If your course included unrestricted modules, your department will provide a list of modules from their own and other subject areas that you can choose from.
Teaching
Throughout your degree, you'll be taught through lectures, practical sessions, lab placements, tutorials and seminars. In small group teaching classes you'll discuss, debate and present on scientific and ethical topics. The biggest part of the course will be your individual research project, working alongside professional scientists.
Our teaching covers ethics, practical scientific skills and an overview of the current literature. You'll also develop useful career skills such as presentation, communication and time management.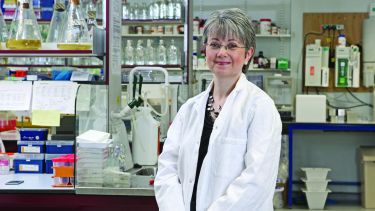 Dr Louise Robson
I work on the disease cystic fibrosis (CF), which is one of the most common inherited diseases in caucasians, with an incidence of 1 in 2,500 live births. In CF a faulty gene means that the protein CFTR does not work properly. My research is looking at how CFTR is regulated normally, and what happens with faulty CFTR. In addition I am in the process of setting up a new diagnostic tool, with the aim of helping our CF clinic in the early diagnosis of children suffering from CF.
Assessment
Assessment is by formal examinations, coursework assignments, debates, poster presentations and a dissertation.
Duration
1 year full-time
You can apply for postgraduate study using our Postgraduate Online Application Form. It's a quick and easy process.
Any supervisors and research areas listed are indicative and may change before the start of the course.
Recognition of professional qualifications: from 1 January 2021, in order to have any UK professional qualifications recognised for work in an EU country across a number of regulated and other professions you need to apply to the host country for recognition. Read information from the UK government and the EU Regulated Professions Database.