2021 start
Particle Physics
Department of Physics and Astronomy, Faculty of Science

Particle physics has been at the centre of some of the 21st century's biggest scientific discoveries. You'll study in a department that has worked on the discovery of the Higgs boson and the detection of gravitational waves. Our researchers are involved in searches for dark matter and ground-breaking neutrino experiments.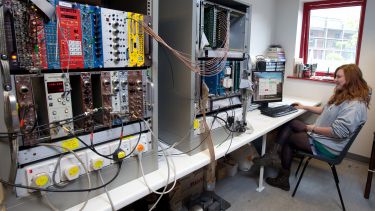 Course description
This course covers the complex theories and experimental techniques that particle physicists use to explain the nature of the universe. It will develop your understanding of the Standard Model by going into even greater depth on topics you might have covered in your undergraduate degree, such as quantum mechanics, electrodynamics and dark matter.
You'll learn about the methods particle physicists use to study the universe, the experiments that led to the discoveries of neutrons, positrons and neutrinos, and the experimental evidence for quarks and gluons. You can examine the possible explanations for dark matter with scientists who are leading searches for it, and take modules led by researchers who were involved in the Higgs boson and gravitational wave discoveries.
The biggest part of your degree is your research project, which you might be able to work on at a research facility such as CERN. Possible topics include:
background events in the LUX-Zeplin dark matter experiment

characterising ultra-fast imaging photon sensors for neutrino experiments

design a masterclass for high-school students using ATLAS open data

searching for supersymmetry with the ATLAS detector at the CERN Large Hadron Collider

the WATCHMAN Project: Using anti-neutrinos for nuclear threat reduction

using tau leptons in collider experiments to search for new physics
You will also complete a research training programme, and there are optional modules to choose from including general relativity, particle astrophysics, semiconductor physics and statistical physics.
Modules
Explore core and optional modules
The content of our courses is reviewed annually to make sure it's up-to-date and relevant. Individual modules are occasionally updated or withdrawn. This is in response to discoveries through our world-leading research; funding changes; professional accreditation requirements; student or employer feedback; outcomes of reviews; and variations in staff or student numbers. In the event of any change we'll consult and inform students in good time and take reasonable steps to minimise disruption. We are no longer offering unrestricted module choice. If your course included unrestricted modules, your department will provide a list of modules from their own and other subject areas that you can choose from.
Teaching
You will be taught through a series of lectures, seminars, tutorials and your research project.
Assessment
You'll be assessed by examinations, coursework, essays and other written work, presentations and a dissertation and viva.
Duration
1 year full-time
Your career
The advanced topics covered and the extensive research training make this course great preparation for a PhD. Physics graduates also develop numerical, problem solving and data analysis skills that are useful in many careers, including computer programming, software engineering, data science, and research and development into new products and services.
You can apply for postgraduate study using our Postgraduate Online Application Form. It's a quick and easy process.
Any supervisors and research areas listed are indicative and may change before the start of the course.
Recognition of professional qualifications: from 1 January 2021, in order to have any UK professional qualifications recognised for work in an EU country across a number of regulated and other professions you need to apply to the host country for recognition. Read information from the UK government and the EU Regulated Professions Database.