2021 start
Speech and Language Therapy
Division of Human Communication Sciences, Health Sciences School, Faculty of Medicine, Dentistry and Health

Approved by the Royal College of Speech and Language Therapists and the Health and Care Professions Council, this course allows you to work in a diverse range of settings and roles as a speech and language therapist.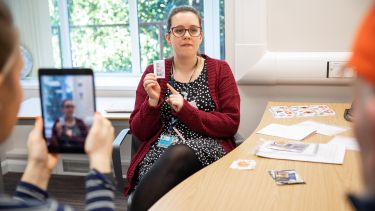 Course description
This course leads to a professional qualification to practise as a speech and language therapist. You'll be able to work in a diverse range of settings, for example schools and hospitals, nurseries, clinics or the client's home. You might also pursue a role in higher education and research.
Speech and language therapists provide treatment and care for children and adults who have difficulties with communicating, eating, drinking or swallowing. Therapists take a collaborative approach, working alongside the individual's carer, teacher or family, as well as other professionals.
The course follows six main themes:
Communication – linguistics, psychology and how this relates to speech and language pathology.
Participation and Society – how the study of sociology and social and health psychology impact on speech and language therapy.
Research Methods – develop the research skills essential to providing evidence-based health care.
Biomedical Sciences – anatomy, physiology, audiology and neurology, and how to link them to speech and language pathology.
Key Clinical Topics – develop your professional competence.
Professional Practice – put your skills to work for a range of clients with communication impairments.
What will you learn?
You'll investigate a range of subjects, including biomedical sciences, psychology, linguistics, communication and research methods. You'll learn how to assess and manage a range of communication and swallowing disorders.
Your skills will be put into practice through a series of clinical placements throughout the course.
We're one of only a few departments of our kind to run an in-house clinic. So as an MMedSci student at Sheffield, you'll benefit from specialist facilities and training. To maximise your clinical skills, you'll go on placements in our clinic and in settings throughout Sheffield and surrounding areas.
Information about applying
Deadline for applying: 22 January 2021
You'll need to include a personal statement (see below) with your application
Your personal statement
In your personal statement (no more than two pages) you must:
outline your reasons for applying to train as a speech and language therapist

demonstrate your knowledge and understanding of the speech and language therapy profession

discuss how your academic/professional/personal background has prepared you for this postgraduate course. We welcome applicants who have backgrounds in unrelated fields as long as they can demonstrate their interest for, and knowledge about, speech and language therapy

clearly describe and reflect on relevant experiences and research you have undertaken to prepare yourself for this programme

provide evidence that your personal values and behaviours align with the NHS constitution
The Royal College of Speech and Language Therapists provides useful resources to help support your university application for a speech and language therapy degree.
Applications will be reviewed and shortlisted for interview.
If you are shortlisted, we'll ask you to come to an interview. Interviews take place in March.
Accreditation
Approved by the Royal College of Speech and Language Therapists and the Health and Care Professions Council
Modules
Core modules
Year one modules
Biomedical Science
Speech, Language, Communication and Literacy Development in Children
Speech and Hearing Science
Developmental Disorders of Communication
Introduction to Practical Linguistics
Language, Cognition and Communication in Adults 1
Language, Cognition and Communication in Adults 2
Research Methods and Statistics
Professional Practice 1
Participation and Society
Year two modules
Language Analysis: Sound and Structure
Transition to Professional Autonomy
Evaluating the Evidence Base in SLT I: Principles and Methods
Evaluating the Evidence Base in SLT II: Clinical Dissertation
Key Clinical Topics 1
Key Clinical Topics 2
Professional Practice 2
Professional Practice 3
The content of our courses is reviewed annually to make sure it's up-to-date and relevant. Individual modules are occasionally updated or withdrawn. This is in response to discoveries through our world-leading research; funding changes; professional accreditation requirements; student or employer feedback; outcomes of reviews; and variations in staff or student numbers. In the event of any change we'll consult and inform students in good time and take reasonable steps to minimise disruption. We are no longer offering unrestricted module choice. If your course included unrestricted modules, your department will provide a list of modules from their own and other subject areas that you can choose from.
Teaching
We use a case-based and inquiry-based approach, as well as small-group teaching, to give you an interactive learning experience. You'll develop theoretical knowledge alongside clinical expertise. Some practical teaching takes place in the University's human pathology laboratories.
You'll learn from a team of clinical and research specialists, including speech and language therapists, psychologists, audiologists, linguists, information technologists, and medical practitioners. Throughout the course, you'll be working closely with your peers and tutors in a supportive environment.
Assessment
We use a variety of methods, including exams, coursework and evaluation of clinical work.
In your second year, you complete a dissertation which comprises a systematic review and project proposal relating to a clinically relevant topic.
Duration
2 years full-time
Student profiles
Entry requirements
A 2:1 degree in any subject. Applicants with a 2:2 may be considered if their practical experience is particularly strong. 
You must have work experience relevant to speech and language therapy. If you are shortlisted, we'll ask you to come to an interview.
DBS Disclosure and Health Screening
You must produce an enhanced DBS disclosure and complete a health screening before starting the course.
Overall IELTS score of 8.0 with a minimum of 7.5 in each component, or equivalent.
Fees and funding
Funding for pre-registration healthcare courses
Additional costs
Clinical placements are a compulsory element of the degree, which means that there will be an additional expense for items such as Disclosure and Barring Service (DBS) checks, travel and accommodation, and clinical material printing costs.
If you are a UK student you will be able to apply for reimbursement of travel and accommodation costs. For EU and international students the additional placement costs will be self-funded.
You can apply for postgraduate study using our Postgraduate Online Application Form. It's a quick and easy process.
Any supervisors and research areas listed are indicative and may change before the start of the course.
Recognition of professional qualifications: from 1 January 2021, in order to have any UK professional qualifications recognised for work in an EU country across a number of regulated and other professions you need to apply to the host country for recognition. Read information from the UK government and the EU Regulated Professions Database.