2022 start
September
Cultural Data Management and Communication
The Digital Humanities Institute, Faculty of Arts and Humanities

Our MA will develop your understanding of the approaches used to manage, analyse and communicate different types of cultural data.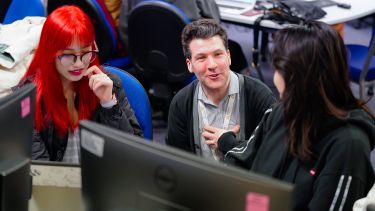 Course description
Choose this course if you're interested in learning about the methods and principles for managing and using cultural data.
Cultural data is digital data about human culture and society, past and present: from ancient documents, artefacts and environments to present-day social media, digital arts and virtual worlds. It draws on a similarly diverse range of digital and computational methods for its management, analysis and communication: from data standards, citizen science and web apps, to computational linguistics, machine learning and user-centred design.
The course will give you a grounding in digital and computational approaches to cultural data. It is intended to prepare students for leadership roles, including project and product management, and careers involving cultural data: leading, overseeing and intersecting with clients, audiences, and design teams (for example programmers and artists ). You don't need to have programming or mathematical competencies.
Modules
Core modules
Introduction to Cultural Data

This module examines cultural data, including methods for creating, analysing and communicating data. Cultural data is digital data about human culture and society, past and present: from ancient documents, artefacts and environments to present-day social media, digital arts and virtual worlds. Cultural data also uses a wide range of digital methods for its creation, analysis and communication, such as digitisation, crowdsourcing, AI, data visualisation, apps, digital exhibitions, and user-centred design. You will learn the principles, methods and tools for working with all types of cultural data, preparing you for a career in the media, information and cultural sectors.

Managing Digital Projects

This module examines project management in the context of developing data products and digital performances. Data products might be websites, databases, information services, apps, or virtual environments which use cultural content. Digital performances might include drama, dance, music, art, video or digital exhibitions in which the practices and/or the outputs are digital. You'll learn the skills and tools necessary to manage the design, planning and execution of a digital project, including: developing ideas for products and performances; understanding user requirements; developing specifications for design teams; planning; managing risk; choosing the best design and development methodology. You'll have the opportunity to work in groups to invent your own product or performance and develop a project plan during the module.

Digital Culture and Data e-Portfolio

This module uses a 'dissertation by portfolio' approach in which you're required to undertake independent learning and reflection to address all aspects of the design and use of a digital product, service, performance, installation or artefact which uses cultural data.

The aim is to compile a portfolio that evidences your critical and reflective journey at each stage of the process (such as showing why you consider some techniques to be appropriate and others not), articulates your rationale by drawing on appropriate theoretical and practitioner contexts, and demonstrates application of your learning outcomes from the core and optional modules you have studied. 

Your portfolio will address one of these broad topics:

Design a digital product or service that uses cultural data, or
Design a digital performance, installation, or artefact that uses cultural data.

The portfolio is expected to include written pieces, drawings, designs, plans, example data, and (optionally) practical execution of any aspects of the project which are within your capabilities (e.g. coding data, composing a musical piece, or writing some software code).
Optional modules
Introduction to Digital Culture

This module examines the theory and history of the interaction between culture and information and communication technology (ICT). Digital culture refers to culture shaped by the emergence and use of digital technologies, their practices and artefacts. This module focuses on the changes wrought by the widespread adoption of networked computing, personalised technologies and digital images and sound, for the way we think about culture and cultural data, the contexts in which digital culture exists and is made, and their impacts for the creative/cultural industries. You will learn about the characteristics of digital culture including types of cultural forms and experiences, technical processes, and about digital computing as a cultural activity with a history, socio-cultural context, aesthetics, epistemologies, its ethical problems and critical debates. This will enable you to understand current forms of digital culture, critically contextualise your own and others' digital practice, and anticipate future developments, as appropriate to knowledge-based careers in the cultural sector.

Designing Cultural Data Products

This module examines how cultural data products are designed. Cultural data products might be websites, databases, information services, apps, virtual environments, digital art or digital exhibitions which use cultural content. The module will teach methods, tools and best practices for designing and disseminating cultural data products, including: understanding why good design is important; developing user-led interfaces; understanding how websites, systems, apps and tools are built; user testing; managing IP and data ethics; developing dissemination plans. You will have the opportunity to work in groups to invent your own product and develop a user interface and dissemination plan during the module.

Language Analysis, AI and Culturomics

This module examines the nature and analysis of cultural data in the form of language, including recorded speech and text, from the past and present. Language data will be in English, but the principles and methods are applicable to any language. You will acquire literacy in comprehending, interpreting, and critiquing research and reports related to text analytics, corpus linguistics, AI and culturomics. You will also be introduced to research design, methods, and epistemologies for working with language data, including digital tools that will facilitate text analysis and the interpretation of data-driven results.
Plus a choice of modules available in other departments in the Faculty of Arts and Humanities, subject to space and availability.
The content of our courses is reviewed annually to make sure it's up-to-date and relevant. Individual modules are occasionally updated or withdrawn. This is in response to discoveries through our world-leading research; funding changes; professional accreditation requirements; student or employer feedback; outcomes of reviews; and variations in staff or student numbers. In the event of any change we'll consult and inform students in good time and take reasonable steps to minimise disruption. We are no longer offering unrestricted module choice. If your course included unrestricted modules, your department will provide a list of modules from their own and other subject areas that you can choose from.
Duration
1 year full-time
2 years part-time
Teaching
This course capitalises on over 25 years of expertise and an international reputation in cultural data at the Faculty of Arts' Digital Humanities Institute (DHI). The DHI is the UK's leading centre for the development, analysis and communication of cultural data (digital humanities). DHI colleagues deliver modules that draw on their knowledge, expertise and track record.
Your career
This course will give you the transferable skills and intellectual training you need for a career in the information, media and communication sectors, the creative industries, and the cultural heritage sector, including galleries, libraries, archives, and museums. It is also excellent preparation for a PhD.
Entry requirements
You'll need a 2:1 honours degree, or equivalent, in a relevant discipline. Relevant disciplines might include History, Music, Archaeology, Languages and Cultures, English, Philosophy, Sociology and Information Studies.
Overall IELTS grade of 6.5 with a minimum of 6.0 in each component, or equivalent.  
You can apply for postgraduate study using our Postgraduate Online Application Form. It's a quick and easy process.
Any supervisors and research areas listed are indicative and may change before the start of the course.
Recognition of professional qualifications: from 1 January 2021, in order to have any UK professional qualifications recognised for work in an EU country across a number of regulated and other professions you need to apply to the host country for recognition. Read information from the UK government and the EU Regulated Professions Database.