2022 start
September
Cultural Data Management and Communication
The Digital Humanities Institute, Faculty of Arts and Humanities

Our MA will develop your understanding of the approaches used to manage, analyse and communicate different types of cultural data.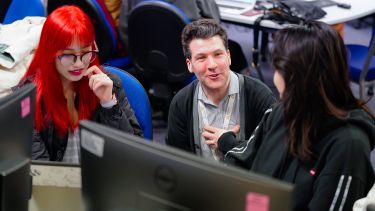 Course description
Choose this course if you're interested in learning about the methods and principles for managing and using cultural data.
Cultural data is digital data about human culture and society, past and present: from ancient documents, artefacts and environments to present-day social media, digital arts and virtual worlds. It draws on a similarly diverse range of digital and computational methods for its management, analysis and communication: from data standards, citizen science and web apps, to computational linguistics, machine learning and user-centred design.
The course will give you a grounding in digital and computational approaches to cultural data. It is intended to prepare students for leadership roles, including project and product management, and careers involving cultural data: leading, overseeing and intersecting with clients, audiences, and design teams (for example programmers and artists ). You don't need to have programming or mathematical competencies.
Modules
Introduction to Cultural Data

This module examines cultural data, including methods for creating, analysing and communicating data. Cultural data is digital data about human culture and society, past and present: from ancient documents, artefacts and environments to present-day social media, digital arts and virtual worlds. Cultural data also uses a wide range of digital methods for its creation, analysis and communication, such as digitisation, crowdsourcing, AI, data visualisation, apps, digital exhibitions, and user-centred design. You will learn the principles, methods and tools for working with all types of cultural data, preparing you for a career in the media, information and cultural sectors.

30 credits

Managing Digital Projects

This module examines project management in the context of developing data products and digital performances. Data products might be websites, databases, apps, or virtual environments which use cultural content. Digital performances might include music, art, video or digital exhibitions in which the practices and/or the outputs are digital. The module will teach the skills and tools necessary to manage the design, planning and execution of a digital project, including: developing ideas; understanding user requirements; developing specifications for design teams; planning; choosing the best design and development methodology. The module does not require the product or performance to be executed.


30 credits

Digital Culture and Cultural Data e-Portfolio

This module enables you to design a digital product, service, performance, installation or artefact which uses cultural data. The design might be to address a problem or a need, or to communicate ideas, and be of value to people in academia, business, arts, heritage or the community. You will create an e-portfolio of written pieces, drawings, designs, and example data, and you can also include practical work (such as a music composition or software code). You will be able to demonstrate self-directed learning, critical judgement, ideas and creativity, building on knowledge acquired throughout your MA, as evidence for future employers.


60 credits
You will choose a minimum of 15 credits and a maximum of 60 credits of optional modules. You will normally take 30 credits of options in semester one and 30 credits in semester two. 

This 60 credit selection can include up to 45 credits from the guided list of Arts and Humanities modules (see guided modules tab)
Introduction to Digital Culture

This module examines the theory and history of the interaction between culture and information and communication technology (ICT). 'Digital culture' refers to culture shaped by the emergence and use of digital technologies, their practices and artefacts. This module focuses on the changes wrought by the widespread adoption of networked computing, personalised technologies and digital images and sound, for the way we think about culture and cultural data, the contexts in which digital culture exists and is made, and their impacts for the creative/cultural industries. You will learn about the characteristics of digital culture including types of cultural forms and experiences, technical processes, and about digital practice and computing as a cultural activity, including its history, socio-cultural context, aesthetics, epistemologies, its ethical problems and critical debates. This will enable you to understand current forms of digital culture, critically contextualise your own and others' digital practice, and anticipate future developments, as appropriate to knowledge-based careers in the cultural sector.

30 credits

Language Analysis, AI and Culturomics

This module examines the nature and analysis of cultural data in the form of language, including recorded speech and text, from the past and present. Language data will be in English, but the principles and methods are applicable to any language. You will acquire literacy in comprehending, interpreting, and critiquing research and reports related to text analytics, corpus linguistics, AI and culturomics. You will also be introduced to research design, methods, and epistemologies for working with language data, including digital tools that will facilitate text analysis and the interpretation of data-driven results.


15 credits

Designing Cultural Data Products

This module examines how cultural data products are designed. Cultural data products might be websites, databases, information services, apps, virtual environments, digital art or digital exhibitions which use cultural content. The module will teach methods, tools and best practices for designing and disseminating cultural data products, including: understanding why good design is important; developing user-led interfaces; understanding how websites, systems, apps and tools are built; user testing; managing IP and data ethics; developing dissemination plans. The module will not teach you how to program in code, and no software programming skills are required. You will have the opportunity to work in groups to invent your own product and develop a user interface and dissemination plan during the module.

15 credits
Your 60 credit option module selection can include up to 45 credits from this guided module list. The owning department has final approval for acceptance onto their modules and, if space becomes limited, priority may be given to students registered in that department.
Semester 1
Heritage, History and Identity

This module highlights the diversity of cultural heritage, ranging from cultural and 'natural' landscapes, through monuments to music, dress, cuisine, 'traditional' crafts, and language and dialect. It explores the role of these various forms of heritage in shaping local, regional and national identity; the extent to which they reflect or misrepresent local, regional and national history; the legal and ethical issues surrounding conservation and preservation of heritage; and how study of 'traditional' lifeways may contribute to understanding of history.

15 credits

Media, State and Society in China

This module explores the workings of the media in China and their treatment of social issues. You will develop critical reading strategies for media, academic, government and corporate sources, research skills and gain experience in writing shorter and longer explanations of these issues.
In the first half of the module, we will critically examine changes in media coverage on Chinese society (in Chinese and overseas print media, social media and documentary film). In the second half of the semester, we will explore a range of social topics, through a combination of academic studies and media sources.

15 credits

Oral History

Oral testimony has established itself as a vital source for historians of the modern world, but its value is still widely contested. This module introduces students to the practice of oral history and the debates surrounding it. We will examine the different ways in which historians have used oral testimony and how this evidence has shaped our understanding of the past; explore the relationships between memory, narrative and meaning; and introduce students to the ethics and practicalities of interviewing. The module will equip you with the tools to conduct your interviews, and to use oral history testimony critically and sensitively.

15 credits

Approaches and Methods in Media History

This module explores approaches and methods in media history. Students will examine how historians narrate media history, and what role the media has played in shaping political culture and mass communications from the Second World War onward. Class discussions will be predominantly based around the case study of modern Britain after 1945, but students will be encouraged to think more widely about the Anglophone world and examine extra-British examples where appropriate. Themes to be studied include: media theory and historiography, including debating the media's role in political disengagement; the media and mainstream politics, including parties and elections; the media, extra-parliamentary politics and social movements; foreign policy and political violence; and race, racism and migration in the media.

15 credits

Language in Context

This module starts from the assumption that language is fundamental to all forms of social life and our understanding of social reality. This poses challenges for all kinds of intercultural contact - be it through translation, other forms of intercultural communication, or through the analysis and interpretation of the cultural 'other' in cultural productions. The module sets out to explain how language interacts with the world around us. The focus is on how we - as language users - shape reality for us and everyone around us whenever we use language in social and cultural contexts, both within and across cultural boundaries.

15 credits

Concepts and Approaches in Intercultural Communication

This module aims to develop an understanding of the main theoretical approaches to the study of intercultural communication and the ability to analyse and evaluate their relative significance, including those originating from applied linguistics, management theory, anthropology and sociocultural theories. Students will consider the concept of culture from a variety of perspectives, and will study topics including stereotyping and prejudice, (non-)essentialism, identity, culture shock, and the role of language and dialogue in intercultural communication. A wide range of real-world examples will be examined, including media reports, international communications, multicultural situations, and intercultural problems raised by students. By the end of the module students will be able to: i) Analyse and critically evaluate the main concepts and approaches in intercultural communication; ii) Consider the implications for their application in practice; and iii) Develop their own perspectives and insights from these theories.

15 credits
Semester 2
Digital Cultural Heritage: Theory and Practice

This module examines the theoretical and methodological advances in Digital Cultural Heritage and their
broader implications in fields concerned with the interpretation and presentation of the past. We will draw on
theoretical readings as well as analyse the potential benefits and drawbacks of certain digital and online
approaches. Topics include: principles and theories underlying Digital Cultural Heritage, understanding
processes of creating digital surrogates, establishing principles for user experience, and exploring digital
narratives for public dissemination. A major component of this module will be a semester-long project that will
require the development of a proposal for a digital cultural heritage project.

15 credits

Media and Public Communication in Japan

This module will begin by providing a description and analysis of the media environment and leading media institutions in Japan. It will then move on to analysing how the media industry mediates between policy making, corporate, and public interests and will make comparisons between Japanese, British, and other countries' media and communications industries. The module will then pay special attention to the public relations/marketing/advertising industry and how it interacts with the corporate world. Emphasis will also be placed on international access to and interaction with Japanese media and public relations. The module will be delivered through one lecture and one seminar per week, both of 50 minutes. Lectures will be in the traditional style, though student participation will be sought. Seminars will be student led and occasionally feature film/video content. Assessment will be through a student presentation and research essay. 

15 credits

Media, Culture and Society in East Asia

This module introduces key ideas surrounding media and culture in the context of East Asian society. Via selected case studies we will explore issues such as power and control, propaganda, politics of memory, politics of representation, media production and consumption, globalisation, transnational cultural exchange, media and nationhood and the changing status of the creative industries in East Asia. This course will examine a variety of media products including film, TV, radio, digital archives, animation, memorials and museums and will engage with the media and culture of Japan, South Korea, Taiwan, Hong Kong and the PRC respectively. 

15 credits

Intercultural Communication in Practice

This module is designed to develop your intercultural competence with a view to becoming an intercultural mediator and effective communicator in an international/multicultural workplace. It requires participants to combine their knowledge of approaches to intercultural communication with real-time situations, thus enhancing their awareness of the values by which they and others operate. Emphasis will also be placed on the centrality of language in the intercultural communication process. You will take an active role in seminars; these are designed to develop intercultural learning through consideration of critical incidents, materials analysis, simulation, role play, drama, and multilingual discussion. These activities will lead to a deeper understanding of the centrality of language in intercultural encounters; the values carried by language and the participants themselves as intercultural people.

15 credits

International Project Management

This module deals with the main issues involved in International Project Management (IPM), as well as the cultural components of international communication. It is delivered through seminars that should be followed by the students' own research to develop independent thinking. Wherever possible, the students will work in international groups to develop a project. By the end of the module, students will be able to write a project proposal, identify the main issues relating to IPM, create tools to evaluate a project, and demonstrate knowledge and understanding of current issues in IPM.

15 credits

Film Adaptation of Literary Classics

Theories of the translation of literary language will be examined in the context of the constraints of screen translation as will the practical issues involved in the adaptation of literary works to the cinema screen.

15 credits
The content of our courses is reviewed annually to make sure it's up-to-date and relevant. Individual modules are occasionally updated or withdrawn. This is in response to discoveries through our world-leading research; funding changes; professional accreditation requirements; student or employer feedback; outcomes of reviews; and variations in staff or student numbers. In the event of any change we'll consult and inform students in good time and take reasonable steps to minimise disruption. We are no longer offering unrestricted module choice. If your course included unrestricted modules, your department will provide a list of modules from their own and other subject areas that you can choose from.
An open day gives you the best opportunity to hear first-hand from our current students and staff about our courses. You'll find out what makes us special.
Duration
1 year full-time
2 years part-time
Teaching
This course capitalises on over 25 years of expertise and an international reputation in cultural data at the Faculty of Arts' Digital Humanities Institute (DHI). The DHI is the UK's leading centre for the development, analysis and communication of cultural data (digital humanities). DHI colleagues deliver modules that draw on their knowledge, expertise and track record.
Your career
This course will give you the transferable skills and intellectual training you need for a career in the information, media and communication sectors, the creative industries, and the cultural heritage sector, including galleries, libraries, archives, and museums. It is also excellent preparation for a PhD.
Entry requirements
You'll need a 2:1 honours degree, or equivalent, in a relevant discipline. Relevant disciplines might include History, Music, Archaeology, Languages and Cultures, English, Philosophy, Sociology and Information Studies.
Overall IELTS grade of 6.5 with a minimum of 6.0 in each component, or equivalent.  
You can apply for postgraduate study using our Postgraduate Online Application Form. It's a quick and easy process.
Any supervisors and research areas listed are indicative and may change before the start of the course.
Recognition of professional qualifications: from 1 January 2021, in order to have any UK professional qualifications recognised for work in an EU country across a number of regulated and other professions you need to apply to the host country for recognition. Read information from the UK government and the EU Regulated Professions Database.