2022 start
September
Early Childhood Education
School of Education, Faculty of Social Sciences

This course is open to everyone with an interest in early childhood education. You'll develop the skills you need to carry out high-quality educational research relevant to your own culture.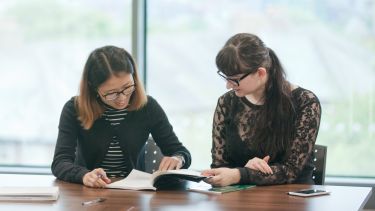 Course description
This course blends distance learning with face-to-face teaching. It's open to everyone with an interest in early childhood education, including early years practitioners, FE and HE lecturers, teachers, nursery nurses, voluntary and independent providers, and inspectors and managers working in areas relevant to early childhood. 
Wherever you are in the world, you'll develop the skills you need to carry out high-quality educational research relevant to your own culture. Those skills include a clearer understanding of the policies, practice and theories that underpin early childhood education and care. You'll discuss international approaches and educational change with leading experts.
On completion, you'll have the opportunity to apply for doctoral study on our Sheffield EdD programme.
Modules
Year one:
Critical Perspectives on Early Childhood Education

This module lays a foundation for the remainder of the programme by developing critical understanding of learning, pedagogy and curriculum in early childhood education. Students will analyse theory, policy and research in order to evaluate a range of historical, contemporary, national and global perspectives on young children's learning. Students will be required to think critically about the location of early childhood education within the broader contexts of social, cultural and political values, priorities and practices. The module content will enable students to reflect upon how these contextual factors can be applied to evaluating learning, pedagogy and curriculum in relation to diverse professional situations.

30 credits

Contemporary Issues for Early Childhood Education

The global contexts in which young children live and learn afford diverse challenges and opportunities for early childhood education. This module focuses on a range of topics which are 'of the moment', and thus pertinent to contemporary debates and practice. Students will critically evaluate current global issues as well as topics which are relevant to specific social, cultural and geographical contexts. Module content will draw upon pioneering research within the School of Education and beyond, and will enable students to make an informed contribution to developments in early childhood education.

30 credits

Research and inquiry in Early Childhood Education

This module provides students with the opportunity to devise, carry out and evaluate a small scale research study on a topic relevant to practice in early childhood education. Supported by guided readings and online discussions focused upon research methods, methodology, ethics and the evaluation and writing up of research data, students will be able to reflect on practice through the process of original research, culminating in a research report. The skills, knowledge and attitudes that students develop in this module will support them in moving on to the dissertation in year two of the programme.

30 credits
Year two:
Leadership and professional knowledge

This module examines a range of perspectives relating to the knowledge, skills and competencies that leaders and practitioners are required to demonstrate in the field of early childhood education. Concepts such as 'quality', 'accountability' and 'professionalism' will be critically evaluated in relation to political and ideological standpoints. Students will reflect upon professional and/or leadership roles and evaluate what quality, accountability and professionalism might 'look like' in a wide range of socio-cultural and geographical contexts. Students will be encouraged to develop and evaluate approaches to leadership/professional practice and to consider contributions to communities of practice.

30 credits

Dissertation

In this module, students are supported in writing a research proposal to inform the planning and carrying out of a piece of research, usually in their own professional context, and in writing a dissertation. The module begins with a compulsory weekend study school in which the strands from the programme modules are revisited and in which students extend their critical understanding of research methods and methodologies.
Following the study school, students develop a research proposal for a small scale study. Once the proposal
and ethical considerations have been approved, students undertake an independent study which informs the writing of a dissertation.

60 credits
The content of our courses is reviewed annually to make sure it's up-to-date and relevant. Individual modules are occasionally updated or withdrawn. This is in response to discoveries through our world-leading research; funding changes; professional accreditation requirements; student or employer feedback; outcomes of reviews; and variations in staff or student numbers. In the event of any change we'll consult and inform students in good time and take reasonable steps to minimise disruption. We are no longer offering unrestricted module choice. If your course included unrestricted modules, your department will provide a list of modules from their own and other subject areas that you can choose from.
An open day gives you the best opportunity to hear first-hand from our current students and staff about our courses. You'll find out what makes us special.
Duration
2 years part-time (distance learning)
Teaching
You'll study mostly at home, staying in contact with your tutor by telephone and email. You must attend three residential weekends in Sheffield during the two years of the course.
Dates of residential weekends
Weekend 1: Friday 14 October–Sunday 16 October 2022
Weekend 2: Friday 24 February–Sunday 26 February 2023
Weekend 3: Friday 19 May–Sunday 21 May 2023
These are our confirmed dates, but dates may change due to factors beyond our control. If dates change we'll give students as much warning as possible.
Assessment
Each module is assessed through a 6,000-word assignment. A final 15–20,000-word dissertation represents one-third of the MA (60 credits out of 180).
Student profiles
I just wanted to say a heartfelt thank you for all your guidance, support and advice over the last two years. The course was fantastic in so many ways. I learnt so much, applied so much and connected with so many people. I also wanted to let you know how much you inspired me over the two years and have helped me develop confidence in all I stand for in ECE.
MA Early Childhood Education
Entry requirements
An honours degree. Relevant experience in the field of early childhood education and care are desirable.
If you don't have an undergraduate degree, you may be able to register for our International Postgraduate Certificate in Education (iPGCE) and progress to the Education, Teaching and Learning MA, which includes optional modules that form part of our programme.
Under exceptional circumstances, we may be able to consider qualifications and experience that are equivalent to a good honours degree in a related field. In such cases, you would need to evidence equivalence and may be asked to complete an entry assessment.
Overall IELTS score of 6.5 with a minimum of 6.0 in each component, or equivalent.
You can apply for postgraduate study using our Postgraduate Online Application Form. It's a quick and easy process.
Any supervisors and research areas listed are indicative and may change before the start of the course.
Recognition of professional qualifications: from 1 January 2021, in order to have any UK professional qualifications recognised for work in an EU country across a number of regulated and other professions you need to apply to the host country for recognition. Read information from the UK government and the EU Regulated Professions Database.