2022 start
September
Ecology and Environment
School of Biosciences, Faculty of Science

Further your understanding of how we maintain ecosystems in the face of environmental change with our uniquely research-focussed course.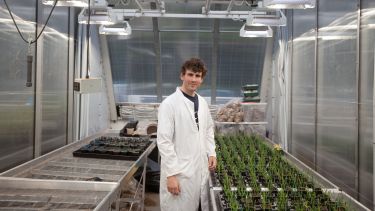 Course description
Biodiversity is threatened by climate change and other consequences of the growing human population. To solve this, and some of the other global challenges facing humanity, we need researchers with an in-depth understanding of how we maintain ecosystems in the face of environmental change.
Our world-class research in this area spans topics including global change ecology, biodiversity science, tropical forest conservation, palaeoecology and palynology, urban ecology, environmental pollution, and agricultural ecology, giving students on this course the opportunity to carry out cutting-edge research in their chosen area.
Research experience
This research-focused course allows you to spend an academic year embedded in one of our research groups, working alongside students and staff who are at the forefront of their research field.
Throughout your course, you'll develop your research skills, giving you the opportunity to contribute new knowledge in your chosen area.
Whether you complete your research in the field, the lab or in industry, in the UK or abroad, you'll be provided with a research budget for your project. Previous students have conducted fieldwork in locations including Brazil, South Africa and Sweden as well as closer to home in the wonderful Peak District National Park on our doorstep.
Example research projects include:
Impacts of selective logging on the morphology of neotropical butterflies
A DNA-based assessment of Eurasian otter, Lutra lutra, numbers and seasonal movement in the Peak District
Partitioning the effects of vertical relief and refuge on coral reef fish community structure
How to apply
Because of the research-intensive nature of this course, we ask you to include a short supporting statement with your application. This should explain how your interests and experience relate to the ecology and environment research we do in the School of Biociences, including which particular supervisors or research groups you would be most interested in working with.
Please submit your application by 15 August if you require a student visa and by 31 August if you do not require a visa.
Potential supervisors
Choose a subject area:
Evolutionary ecology

Dr Deborah Dawson - Conservation genetics of otters and salmon; reproductive genetics and genomics; molecular ecology including eDNA analysis

Professor Charles H Wellman

- Evolution of land plants over geological time, with emphasis on their origin and early diversification

Professor Andrew Beckerman

- Structure, complexity and dynamics of food webs; ecology and evolution of phenotypic plasticity; distribution and abundance of organisms and the diversity and structure of communities; conservation and demography of endangered parrots. Combines mathematical modelling and lab and field experiments

Professor Roger K Butlin

- Processes that lead to speciation and the genetic basis of barriers to gene exchange, using analysis of contact zones in

Littorina

snails and experimental evolution of rotifer populations

Dr Stuart Campbell

- Plant chemical and molecular ecology; secondary metabolite diversity and function; plant-insect interactions in wild species and crops; mechanisms and consequences of self-incompatibility

Professor Ben J Hatchwell

- Cooperative behaviour and social evolution, using long-term studies of birds to investigate the causes and consequences of sociality

Dr Helen Hipperson

- Applying genomic techniques to answer questions in plant and soil biology, ecology, evolution, conservation and population genomics

Dr Nicola Nadeau

- Genomic approaches to understand biodiversity, speciation and adaptation, with a particular focus on the tropical Heliconius butterflies

Professor Colin P Osborne

- How evolution leads to physiological diversity in wild plants and the significance of physiological differences for ecological behaviour. Photosynthesis, growth, climate change and sustainability are central themes, as is the significance of physiological responses for ecosystems

Dr Guillaume Chomicki - Ecology and evolution of mutualisms, crop domestication and origin of agriculture, plant systematics and evolution, and the evolution of plant morphology (especially plant architecture). Approaches including phylogenetic comparative methods, comparative genomics, phylogenomics, field experiments, stable isotopes, CT scanning and 3D reconstructions, plant architectural analysis.

Macroecology

Ecological modelling

Soil and microbial ecology

Urban ecology

Dr Jill Edmondson -

Soil and vegetation carbon budgeting including black carbon, urban soil quality, soil-to-crop pollutant transfer in urban agriculture, interactions between urban land management and ecosystem service delivery

Dr Deborah Dawson - Conservation genetics of otters and salmon; reproductive genetics and genomics; molecular ecology including eDNA analysis
Dr Karl Evans

 - Pathways through which human activity degrades ecosystems, their biodiversity and ecosystem services, and devising solutions. Interdisciplinary approach drawing on ecological and social sciences. Focused on urban systems, climate change, protected areas and the environmental impacts of development policies
Modules
Core modules:
Research Project

This module allows students to develop skills relevant to a career in biological research. It will consist of a laboratory, field-based or computational research project where each student will work under the supervision of a member of academic staff. The student will formulate the hypotheses and questions to be addressed and plan and carry out experiments to test these hypotheses. The project will be written up in the form of a scientific paper and the student will keep a notebook of the research.

120 credits

Literature Review

The literature review requires the student to write a critical review of a biological topic of choice. The literature review will involve extensive reading of original research papers, reviews and books together with information extracted from other media. The student will be required to critically analyse hypotheses in the field and critically analyse the quality of the evidence used to support them. Where controversies exist the student should be prepared to indicate which side has the stronger case. The literature review should also identify gaps in our current knowledge and understanding and make suggestions for the future developments in the field.

15 credits

Scientific Skills and Project Management

This module provides training in the skills and approaches necessary to design, manage, conduct, analyse and present research in whole organism biology and environmental science. Generic skills involve designing and planning an effective and reproducible study, making best use of available resources; collecting and managing data to address study aims; conducting research in an ethical manner; and communicating results orally and in writing to different audiences. There are also workshops explaining key aspects of the research process, introducing peer review and describing the science funding landscape. The module also covers advanced principles of experimental design, data interpretation, and graphical presentation, introduced in the statistical computing environment R using a series of workshops and student-centred learning assignments to develop skills and proficiency.

30 credits

Science Communication for Researchers

This module provides training in the skills and approaches necessary to effectively communicate science. The module has three main components:
1. An intensive science communication workshop focusing on interactions with the print and broadcast media;
2. A poster presentation, where students design and produce a poster to communicate their research project to a target audience (e.g. general public,
research audience);
3. A formal oral presentation, where students present their research results to their peers.


15 credits
The content of our courses is reviewed annually to make sure it's up-to-date and relevant. Individual modules are occasionally updated or withdrawn. This is in response to discoveries through our world-leading research; funding changes; professional accreditation requirements; student or employer feedback; outcomes of reviews; and variations in staff or student numbers. In the event of any change we'll consult and inform students in good time and take reasonable steps to minimise disruption. We are no longer offering unrestricted module choice. If your course included unrestricted modules, your department will provide a list of modules from their own and other subject areas that you can choose from.
Duration
1 academic year full-time
Teaching
You'll learn through a mixture of working in a research laboratory or on a field-based research project, tutorials, discussion groups, seminars, and statistics and other workshops.
Assessment
Most assessment is through coursework. Your assessment includes, but is not limited to, a project report, literature review, poster presentations, oral presentations, written grant proposals and online statistics exams.
Your career
This degree provides an ideal springboard for a research career in your chosen field, including crop and soil science, evolutionary and behavioural research, genomics and related technologies, and ecological and environmental research. Past students have gone on to study for PhDs, as well as taking up positions in government science, environmental consultancy, and industry.
Student profiles
My specific project is investigating the impact of skid roads in Rondônia, Brazil, on young tree diversity and mortality, helping to gauge the sustainability of the operation and offer guidance on how to improve it in partnership with a sustainable logging company.
MRes Ecology and Environment
Entry requirements
A 2:1 BSc honours degree, or equivalent, in biology or a closely related quantitative subject. In addition, you should be able to demonstrate evidence of aptitude and enthusiasm for research eg an undergraduate research project.
Overall IELTS score of 6.5 with a minimum of 6.0 in each component, or equivalent.
Because of the research-intensive nature of this course, we ask you to include a short supporting statement with your application. Please see the course description above for more details.
Any supervisors and research areas listed are indicative and may change before the start of the course.
Recognition of professional qualifications: from 1 January 2021, in order to have any UK professional qualifications recognised for work in an EU country across a number of regulated and other professions you need to apply to the host country for recognition. Read information from the UK government and the EU Regulated Professions Database.