2022 start
September
Nuclear Science and Technology
Department of Materials Science and Engineering, Faculty of Engineering

This course is run jointly with the members of the Nuclear Technology Education Consortium (NTEC). Learn from world-leading academics in the important area of nuclear waste immobilisation, decommissioning and clean-up.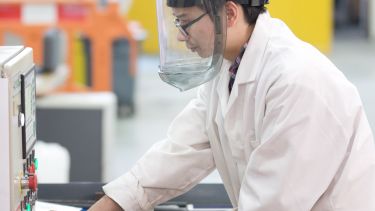 Course description
This course is run in partnership with fellow members of the Nuclear Technology Education Consortium (Sheffield is one of the lead partners, along with Manchester and Liverpool) and gives you access to more than 90 per cent of the UK's academic expertise in nuclear waste immobilisation, decommissioning and clean-up. 
You'll be based in the department's world-leading NucleUS Immobilisation Science Laboratory, and will take eight modules on the nuclear fuel cycle. Topics include Decomissioning, Nuclear Technology and Environment and Safety. Each module includes a week at one of our partner universities.
Some modules require overseas travel.
Accreditation
Accredited by The Institution of Engineering and Technology (IET), The Energy Institute (EI), The Institute of Materials Minerals and Mining (IoM3) and The Institution of Mechanical Engineers (IMechE)
Modules
Example modules include:
Nuclear Waste Immobilisation and Disposal

This module considers fundamentals of nuclear waste management. A range of topics will be considered including contaminants and radiotoxicity, NORM, background radiation, risks, regulations, classification, origin and characteristics, short-lived and long-lived radionuclides, principles of waste management, characterisation, pre-treatment, thermochemical technologies, immobilisation by cements, bitumen and glass, vitrification technology, Joule heated ceramic and cold crucible induction melters, metal matrices, immobilising ceramics, glass ceramics and glass composite materials, self-sustaining immobilisation, performance of cementitious, bituminous, vitreous and metallic waste forms, radiation effects in glasses and ceramics, partitioning and transmutation, storage and disposal, safety assessment.

15 credits

Nuclear Fuel Cycle

Contact department for more information.

15 credits

Reactor Physics, Criticality & Design

Groundwater is a major water resource throughout the world, and sustains the baseflow of most rivers. It is at risk of pollution from the overlying landuses (agriculture, industry, urban areas, contaminated land and waste disposal). This course studies how pollutants behave in this slow-flowing environment with low oxygen availability and large rock-water interfaces. This is essential to predict the environmental impacts of pollutants and to determine whether clean-up is required or whether natural attenuation will reduce concentrations to an acceptable level. The course will describe sources and types of pollutants, their transport by advection, dispersion and diffusion, and the overall effects of sorption and biodegradation. However it is not a course in environmental chemistry or microbiology; and the emphasis will be on groundwater flow mechanisms. There are sections on urban groundwater, fate and transport in the unsaturated zone, and case studies of investigation and assessment of individual sites. There are calculations and equations. The lecture part of the course is also offered as a short course to non-students.

15 credits

Radiation Shielding

Contact department for more information.

15 credits
The content of our courses is reviewed annually to make sure it's up-to-date and relevant. Individual modules are occasionally updated or withdrawn. This is in response to discoveries through our world-leading research; funding changes; professional accreditation requirements; student or employer feedback; outcomes of reviews; and variations in staff or student numbers. In the event of any change we'll consult and inform students in good time and take reasonable steps to minimise disruption. We are no longer offering unrestricted module choice. If your course included unrestricted modules, your department will provide a list of modules from their own and other subject areas that you can choose from.
Teaching
Working alongside students and staff from across the globe, you'll tackle real-world projects, and attend lectures, seminars and laboratory classes.
Assessment
You'll be assessed by formal examinations, coursework assignments and a dissertation.
Duration
1 year full-time
You can apply for postgraduate study using our Postgraduate Online Application Form. It's a quick and easy process.
Any supervisors and research areas listed are indicative and may change before the start of the course.
Recognition of professional qualifications: from 1 January 2021, in order to have any UK professional qualifications recognised for work in an EU country across a number of regulated and other professions you need to apply to the host country for recognition. Read information from the UK government and the EU Regulated Professions Database.