2022 start
November
Nursing Studies (leading to professional registration as an Adult Nurse)
Division of Nursing and Midwifery, Health Sciences School, Faculty of Medicine, Dentistry and Health

Studying alongside other health care professionals in a health care setting, you'll learn how to critically evaluate current research, policies and practice. You'll develop a range of clinical skills and knowledge appropriate for professional registration as an adult nurse.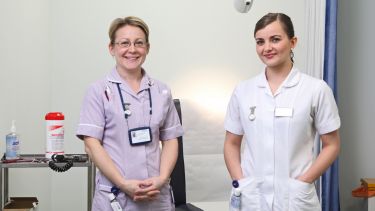 Course description
Our approach to teaching is innovative. Instead of sitting in a lecture theatre, you'll work on solutions to specific problems. This helps you develop the skills and the confidence you need. You'll study alongside other health care professionals in a health care setting.
You'll learn how to critically evaluate current research, policies and practice. By linking theory to practice, you'll develop a range of clinical skills and knowledge appropriate for professional registration as an adult nurse.
You'll spend half your time gaining practical experience in a wide variety of community and clinical settings.
Framework
This course uses the following framework to help you develop valuable attributes in your practice:
Holistic Knowledge and Practice: a synthesis of knowledge and the available evidence from a wide range of nursing and related theory and clinical practice experiences, with the aim of providing optimum quality of care for patients/clients and their significant others. This includes the ability to work effectively as a member of the interdisciplinary team.
Saliency: assessment of the needs of patients/clients and their significant others in a way that facilitates their participation in the care process and ensures that plans of care reflect their priorities and best interests.
Knowing the Patient: respect for patients/clients and their significant others, valuing their life histories, their perspectives as experts in their own health career, and involvement as partners in the care process.
Moral Agency: nursing care should be provided within a framework of sound ethical and legal principles, anti-discriminatory practice and the empowerment of patients/clients and their significant others.
Skilled Know How: holistic, proficient and adept nursing care that encompasses excellence in clinical and interpersonal skills.
Modules
Core modules
The course is 50 per cent theory and 50 per cent practice, based on four core units of study:
Foundations in Health and Nursing
Patients with Acute and Short-Term Needs
Patients with Long-Term Conditions and Complex Needs
Transitions to Practice: Managing and Organising Care
The content of our courses is reviewed annually to make sure it's up-to-date and relevant. Individual modules are occasionally updated or withdrawn. This is in response to discoveries through our world-leading research; funding changes; professional accreditation requirements; student or employer feedback; outcomes of reviews; and variations in staff or student numbers. In the event of any change we'll consult and inform students in good time and take reasonable steps to minimise disruption. We are no longer offering unrestricted module choice. If your course included unrestricted modules, your department will provide a list of modules from their own and other subject areas that you can choose from.
An open day gives you the best opportunity to hear first-hand from our current students and staff about our courses. You'll find out what makes us special.
Teaching
This course uses an innovative problem-based learning strategy to help you think about real clinical practice scenarios. A strong emphasis on cooperative learning helps you manage unfamiliar situations, make reasoned decisions, adapt to change, and plan your future learning. It's a realistic and challenging preparation for registration.
Placements
Our placement partners are in Barnsley, Bassetlaw (Worksop) and Doncaster, Rotherham and Sheffield. It is anticipated that most of your placements will be in the same town or city. There is no guarantee that you'll be given your first choice of placement location.
Assessment
You'll undertake a variety of assessments during the programme, including exams, presentations, written assignments and clinical assessments while on placement.
Your career
After successfully completing your course, your qualification as a registered nurse opens the door to an exciting, rewarding and diverse professional career with many opportunities for personal and professional development. Past students have gone on to work in a variety of health settings such as the NHS and private care homes.
Student profiles
Being on placement is one of my favourite parts of the course. While on placement I feel really well supported both by the academic staff at the University and my mentor.

Samantha Treloar

PG Dip Nursing Studies
Entry requirements
This course is not presently open to international applicants.  We are unable to accept international applications, as clinical placement capacity is confined by local staffing requirements.
You must meet the entry requirements for the programme prior to the course start date in November each year.
You'll need a 2:2 degree in a relevant area such as social sciences, human sciences, biomedical sciences, public services, and GCSE Mathematics, English and Science.
You'll also need to show that you have 650 hours of health care experience:
MMedSci work experience requirements

The MMedSci Nursing Studies (Adult) programme is a two-year course that is designed for those who have a degree in a relevant subject and at least 650 hours' relevant experience. By meeting these criteria you will be eligible to use this qualification and experience to apply for exemption from one year's training. The two-year MMedSci Nursing Studies (Adult) programme is not three years' training condensed into two years, it is a two-year course plus the degree that you already have, plus the 650 hours' experience that you already have. If you don't have a relevant degree and 650 hours' experience then you would not be eligible to apply for the two-year programme.

The 650 hours can comprise a range of experiences but they do have to add up to at least 650 hours. If shortlisted you will be asked to provide evidence of these hours.

We look for experience which involves working with the public in some form of 'helping' capacity. This might be working as a health care assistant/support worker/carer or as an advisor or as a teacher.  Maybe you worked with homeless people or as a befriender to older adults. You may have worked with children or with people with mental health problems or learning disabilities. Caring for a family member may also be relevant. The list isn't exhaustive and you are advised to contact the admissions tutor if you want to discuss your experience.  The experience could be gained via paid employment, voluntary work or a mixture of the two. However you must be able to provide verifiable proof of your experience. If you cannot provide verifiable proof of the hours, we cannot accept them.

Caring for a relative/friend is a very valuable experience but you must be able to provide evidence supporting the number of hours spent in this role. The evidence must come from a registered practitioner – such as a nurse, general practitioner or social worker –and they must be able to confirm the hours spent caring for your relative/friend.  Unfortunately if this evidence cannot be provided we will not be able to count this experience towards the 650 hours' requirement.

You must meet both the academic and the practice entry requirements for the MMedSci course.  If you don't then you may wish to consider the undergraduate (BMedSci) nursing programme.
All students will require a Disclosure and Barring Service (DBS) check and health screening.
You'll be required to demonstrate an awareness of, and commitment to, the core values of the NHS which aspires to provide the highest standards of excellence, professionalism and public accountability, and gives priority to the interests of patients. We base our selection decisions on these values and how well you are able to express them on your application and performance at our selection day.
While we value your caring experience it is still important that you meet the academic entry requirements of the programme. If you are currently studying towards meeting the entry requirements then you are welcome to apply. If you meet first degree requirements but aren't sure if your GCSE/equivalent qualifications are sufficient then please contact us to discuss this. To apply for the programme you must be able to demonstrate that you have a good standard of secondary education.
---
Overall IELTS score of 7.0 with a minimum of 7.0 in Listening, Speaking and Reading and 6.5 in Writing, or equivalent.
Any supervisors and research areas listed are indicative and may change before the start of the course.
Recognition of professional qualifications: from 1 January 2021, in order to have any UK professional qualifications recognised for work in an EU country across a number of regulated and other professions you need to apply to the host country for recognition. Read information from the UK government and the EU Regulated Professions Database.